Book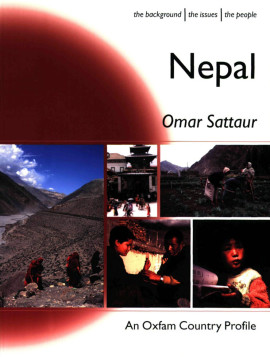 Nepal
New Horizons
Published: 1996
Pages: 64

eBook: 9780855988043
Paperback: 9780855982904
This outstanding series provides concise and lively introductions to countries and the major development issues they face. Packed full of factual information, photographs and maps, the guides also focus on ordinary people and the impact that historical, economic and environmental issues have on their lives.
* Introduction

* The land and the people - geography and society

* History of a kingdom

* An agricultural economy

* On foot in the hills

* A land of many gods - religion, caste, culture and society

* Women in Nepali society

* Health in the hills

* Education - children and work, school and the law

* Giant neighbours - India and China

* Flight from Bhutan - refugees

* Tourism - who benefits?

* Whose environmental problem?

* People power

* Facts and Figures

* Oxfam in Nepal

* Further reading
Omar Sattaur
Omar Sattaur is writer and editor for Independent Consultant, Stockport, United Kingdom. He was communications advisor for DFID as well as editing and writing sustainable livelihoods publications.