Book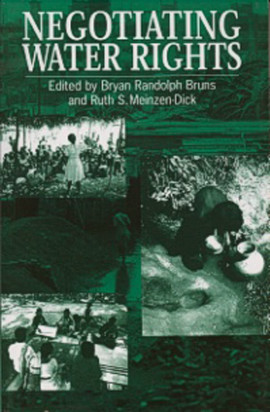 This book presents a thorough exploration of water rights in the context of growing water scarcity and competition. It uses case studies from across the globe to identify: *the range of water rights and basis for claims on the resource. *local experiences in negotiating water rights and opportunities to empower farmers in water resource management. The book reviews conceptual framework which can help to better manage and understand conflicts over scarce water. Cases are presented from Nepal, India, Bangladesh, Sri Lanka, Pakistan, Indonesia, Burkina Faso, Spain and New Mexico. The book concludes with a chapter on implications for research and action. This volume recognizes the growing demands on a scarce and essential resource and argues that only negotiated approaches which involve the water users themselves can ensure equitable, efficient and acceptable outcomes. - This book will be of interest to professionals involved in water resource management, food policy, rural development, irrigation management and property law/property rights as well as agricultural economists and social activists.
Bryan Randolph Bruns Bryan Randolph Bruns is a consulting sociologist: improving participation in irrigation, water resources management, and institutional development, and an independent scholar of water governance, institutional analysis and development, and solving social dilemmas
Ruth Meinzen-Dick Ruth Meinzen-Dick is senior research fellow at the International Food Policy Research Institute (IFPRI).