Book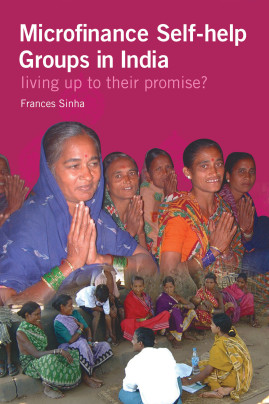 Microfinance Self-Help Groups in India
Published: 2009
Pages: 190

eBook: 9781780440293
Paperback: 9781853396564
Self-Help Groups (SHGs), a means of reaching rural women with savings and credit services, have taken off dramatically in India, where an estimated 25 million women are members. Their benefits are social as well as economic: SHGs encourage women to become active in village affairs, or take action against domestic violence, the dowry system, or the lack of schools. But some questions remain. How effective and transparent are the groups in managing their finances? Are the groups sustainable? Do the poorest benefit? What does it take for SHGs to mobilize for social action? How effective are such actions? For the first time, detailed field research probes beneath the surface of India's world-renowned SHGs. It explores both social and financial performance in the SHG movement. This text reveals that whilst there are important achievements, especially on the social side, without more strategic attention and more resources these are unlikely to be sustainable.
Prelims (Contents, Foreword by Kim Wilson, Figures, Tables, Boxes, Preface and acknowledgements, Acronyms and abbreviations, About the authors)

PART ONE: STUDY CONTEXT AND DESIGN

1. Study design: objectives and methodolgy

2. Sample Profile: villages, SHGs, SHPAs

PART TWO: OUTREACH

3. SHG Members

4. Who does not join?

5. Drop-outs

PART THREE: SOCIAL ROLE

6. SHGs and local politics

7. SHG's and social harmony

8. SHGs and social justice

9. SHG's and communities

PART FOUR: SUSTAINABILITY

10. Group records

11. Equity within groups

12. Defaults and recoveries

13. Group sustainability - financial value

PART FIVE: IMPLICATIONS

14. Conclusions

Back Matter (Bibliography, Glossary, Index)
Frances Sinha
Frances Sinha is the Managing Director, EDA Rural Systems, India, a consultancy providing research and capacity building support for microfinance and enterprise development.
The Impact of Microfinance on Factors Empowering Women: Differences in Regional and Delivery Mechanisms in India's SHG Programme
Bali Swain, Ranjula
Wallentin, Fan Yang
The Journal of Development Studies, Vol. 53 (2017), Iss. 5 P.684
https://doi.org/10.1080/00220388.2016.1205732
[Citations: 13]
Frontier finance: the role of microfinance in debt and violence in post-conflict Timor-Leste
Johnston, Melissa Frances
Review of International Political Economy, Vol. 27 (2020), Iss. 6 P.1305
https://doi.org/10.1080/09692290.2020.1733633
[Citations: 1]
Livelihood Promotion: Can the Collectives of NRLM Really Do It?
Shylendra, H. S.
(2021) P.097300522110008
https://doi.org/10.1177/09730052211000875
[Citations: 0]