Book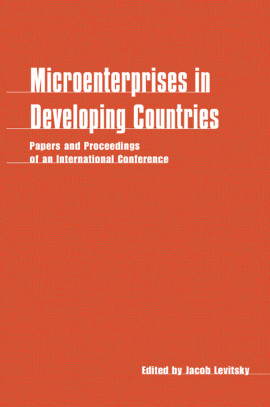 Microenterprises in Developing Countries
Published: 1989
Pages: 312

eBook: 9781780440163
Paperback: 9781853390166
Microenterprises – very small businesses consisting of a single self-employed person, a family, or at the most a few employees – are the main source of livelihood of up to half of the population of most developing countries. In the past this vital sector, often referred to also as the informal sector, has received inadequate attention, but increasingly multilateral and bilateral agencies and non-governmental organizations are searching for ways to help improve the effectiveness of these microenterprise operations and to enable them to make a greater contribution to the development of the third world and to the general efforts to enhance incomes and raise living standards.

This collection of sixteen papers by experts with considerable experience in the field emanates from the International Conference on Microenterprises held in Washington DC, USA, sponsored by the Committee of Donor Agencies for Small Enterprise Development on 6–9 June 1988. It is organized according to the major issues relating to the subject: the structure of the microenterprise sector, government policies towards microenterprises, informal credit markets, financial and technical services, institutional aspects and a review of the experience of assistance projects. This publication should be of great interest and value to all concerned in increasing assistance to the development of microenterprises in developing countries.
PREFACE

PART ONE:

SUMMARY OF CONTENTS 3

PART TWO:

SECTION A: INTRODUCTION

1. Overview 17

SECTION B: CANE SUGAR TECHNOLOGY

2. Introduction to processing techniques 27

3. The history and development of the technology 30

SECTION C: THE GLOBAL CONTEXT

4. The world sugar market 37

5. The structure of world production and consumption 41

SECTION D: THE ISSUE OF SCALE ECONOMIES

6. Scale considerations in sugar production planning 53

7. New cane extraction technology for small-scale factories 61

8. Realizing scale economies 64

SECTION E: IMPROVED OPEN PAN PRODUCTION - A DECADE

OF EXPERIENCE

9. Improvements in open pan sulphitation technology 71

10. Economic viability of small-scale sugar production in Kenya 84

11. Sugar policy in Kenya: A farmer's dilemma 94

12. The Kabras experience: An exploratory socio-economic impact

analysis of the West Kenya sugar factory 105

13. West Kenya Sugar Company Ltd. 143

SECTION F: POLICY IMPLICATIONS

14. The sugar industry in developing countries : Import substitution,

government policy and scale of production 151

15. Policy and performance of the sugar industry in Kenya 169

16. The future of small-scale sugar processing in Tanzania 174

17. Incentives for increased cane production: Critical policy

considerations for Kenya's sugar industry 178

SECTION G: CONCLUSIONS

18. Small-scale cane sugar processing: The way forward 183

APPENDICES 201

GLOSSARY 229
Jacob Levitsky
Jacob Levitsky is a development consultant based in the UK, and was formerly Small Enterprise Advisor for the World Bank in Washington DC.