Book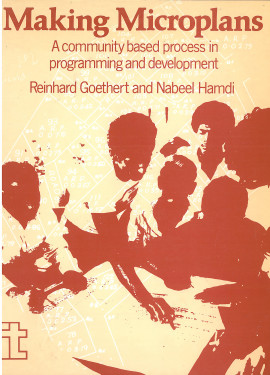 Making Microplans
A community based process in programming and development
Nabeel Hamdi, Reinhard Goethert
Published: 1988
Pages: 168

eBook: 9781780442723
Paperback: 9781853390852
Microplanning is a community-based process which enables local people to prepare and implement programmes for settlement upgrading. Local participants contribute to both the content and structure of programmes. Case studies from Chile and Sri Lanka.
Nabeel Hamdi
NABEEL HAMDI, architect and teacher. Specialist in housing, shelter and settlement, slum upgrading and in participatory planning and design. Director of the Centre for Development and Emergency Planning (CENDEP) at Oxford Brookes University. Research Affiliate, MIT Cambridge, USA.
Reinhard Goethert
Reinhard Goethert focuses his interests in methodologies of settlement design and housing in the Third World. He designs low-cost 'site and services' housing projects and develops policies for housing the low-income majority in developing countries, including developing tools for designers, training programs for technical staff, research programs, and monitoring strategies for agencies.
New Cities and Community Extensions in Egypt and the Middle East
So It's Always a Chance: Community-Led Solutions to New Urban Expansion
Soliman, Ahmed M.
2019
https://doi.org/10.1007/978-3-319-77875-4_9
[Citations: 12]