Book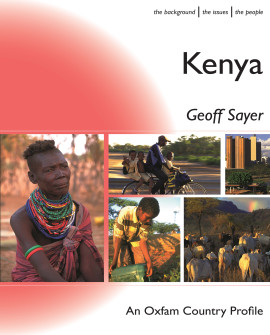 Kenya
Promised land?
Published: 1998
Pages: 72

eBook: 9780855987800
Paperback: 9780855983826
This outstanding series provides concise and lively introductions to countries and the major development issues they face. Packed full of factual information, photographs, and maps, the guides also focus on ordinary people and the impact that historical, economic, and environmental issues have on their lives.
* A land of contrasts

* The Great Rift

* The bones of our ancestors

* Waterfront to the world

* Commerce and conquest

* The Uganda Railway

* Kenya Colony

* Independence and after

* Kenya at the crossroads

* Tea and tourism-coffee and carnations

* Smallholders and agribusiness

* Pastoralism or 'progress'?

* Land and poverty

* Land and conflict

* Health and education-at a price

* City in the sky

* Tales of city life

* Culture old and new

* The impact of tourism

* The promise of prosperity

* Dates and events

* Facts and figures

* Sources and further reading

* Acknowledgements

* Oxfam in Kenya.
Geoff Sayer
Geoff Sayer is an Oxfam writer and photographer who has travelled extensively in East Africa
Inscribing Memories on Dead Bodies: Sex, Gender, and State Power in the Julie Ward Death in Kenya
Musila, Grace
Journal of Eastern African Studies, Vol. 2 (2008), Iss. 3 P.439
https://doi.org/10.1080/17531050802401817
[Citations: 0]