Book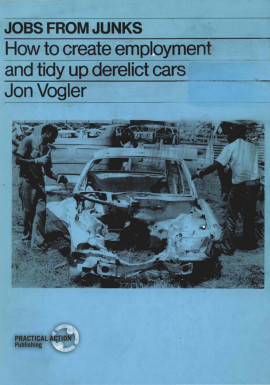 Jobs from Junks
Published: 1983
Pages: 70

eBook: 9781780444116
Paperback: 9781853390548
Presents a method of creating employment and cleaning up cities in developing countries by dismantling derelict cars. Includes a curriculum for a short training course in cutting up cars and instructions about selling the recovered materials and parts.
THE PROBLEM AND WHAT CAN BE DONE ABOUT IT

1 Some Definitions

2 The Problem of Junks

3 The Role of the Municipality

4 Organising a Car - Dismantling Project

HOW TO PROVIDE PAID WORK BY CUTTING UP JUNK CARS AND TRAINING

SELLING THE STEEL. A ONE WEEK

COURSE.

MORNING Background

Selling the Scrap

AFTERNOON Tools

Safety

AFTERNOON Sealing Spares for Reuse

Selling Scrap Steel

Non-Ferrous Scrap

AFTERNOON Starting Work -

Cutting The Top

AFTERNOON Cutting The Under Side

AFTERNOON Transport, Material Size,

Material Grades, Baling

1 SAMPLE PROPOSAL TO A STEEL MILL FOR THE SALE OF LOW GRADE SCRAP FROM MOTOR CAR BODIES

2 HEAVY VEHICLES AND THE USE OF OXY-ACCETYLENE CUTTERS AND POWER OPERATED TOOLS
Jon Vogler
Jon Vogler, a chartered engineer, joined Oxfam in 1974 to set up the 'Wastesaver' project with the aim of raising money for 'poor world' development by recycling 'rich world' wastes. He then spent eighteen months visiting developing countries for the British government to study their waste materials and how these are re-used. This book is one result of his study.