Book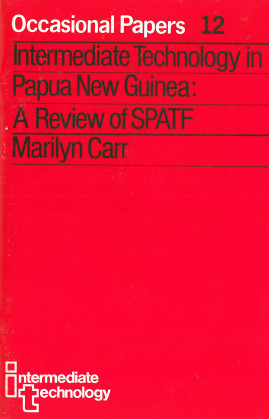 Intermediate Technology in Papua New Guinea
Published: 1984
Pages: 20

eBook: 9781780442563
Paperback: 9781853393587
This paper is based on a study of the South Pacific Appropriate Technology Foundation undertaken in 1983 as part of an ITDG institutional initiative.
Introduction

THE ENVIRONMENT FOR TECHNOLOGY DEVELOPMENT AND APPLICATION IN PAPUA NEW GUINEA

HISTORY AND GROWTH OF THE SOUTH PACIFIC APPROPRIATE TECHNOLOGY FOUNDATION

OBJECTIVES AND METHOD OF WORK

ACHIEVEMENTS AND PROBLEMS

BIBLIOGRAPHY

NOTES
Marilyn Carr
Marilyn Carr is Chief of the Economic Empowerment Section of the United Nations Development Fund for Women. She is a development economist with over 20 years experience in Asia and Africa and specializes in the fields of small enterprise development and technology choice and diffusion.