Book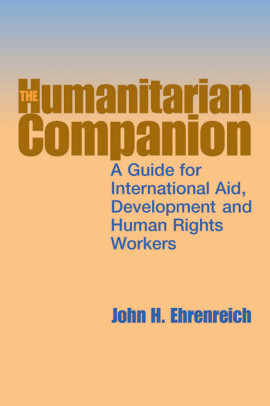 The Humanitarian Companion
A guide for international aid, development and human rights workers
Published: 2005
Pages: 184

eBook: 9781780440255
Paperback: 9781853396014
Humanitarian workers -- working in their own country or overseas -- face many common challenges. This book will help them, and those training them, prepare both practically and emotionally for the wide range of challenges, dangers and insecurities that are an everyday part of their work.

Written with both the new humanitarian worker and the experienced veteran in mind, the book deals in turn with the main stages of a humanitarian assignment. It starts with issues to consider before you start out, then deals with safety and security in the field, staying healthy, managing stress, coping with the trauma of others, and dealing with returning home at the end of an assignment. An extensive appendix includes a checklist of 'what to do and what to take with you', a brief first aid manual, and other practical information and advice.

This book will be a welcome companion for all humanitarian workers, and an essential tool for those training them.
Prelims (Try To Praise the Mutilated World, Contents, List of boxes, Introduction, Acknowledgements)

1. Preparing for a field assignment

2. Safety and security in the field

3. Taking care of yourself: preventing health problems in the field

4. Managing stress

James Guy, Amber Elizabeth Gray

5. Working with survivors of traumatic experiences

6. Going home – a journey of discovery

John Fawcett, Amber Elizabeth Gray

Back Matter (Resources, Index)
John Ehrenreich
John Ehrenreich is Professor of Psychology and Director, Center for Psychology and Society, State University of New York, College at Old Westbury, NY, USA. He has many years' experience as a practising clinical psychologist and has a longstanding interest in issues of response to disasters and complex humanitarian emergencies.