Book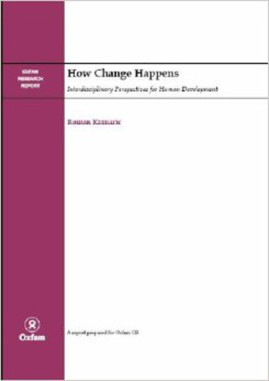 How Change Happens
Published: 2007
Pages: 59

eBook: 9780855987688
Paperback: 9780855985974
Has development thinking become too narrow and specialised? Does it fail to draw on learning from outside the realm of development studies about how social change happens? This report presents an overview of approaches used to explain social change from a wide range of academic perspectives, from history, politics and economics to psychology and geography. These are summarised in a useful table, which presents a series of questions as a flexible tool for thinking about how change happens. The author argues that current development thinking uses only a narrow range of approaches to change and the result is that most development strategies are limited. They: are excessively reformist and insensitive to underlying power and inequalitylargely ignore environmental issuesoverlook the importance of personal relationships and promoting mutual understanding as a strategy for changefail to appreciate fully the contextual factors that limit changelack a multidisciplinary agility to draw on the broad range of approaches to change that exist outside the confines of development studies. There is a need for broader thinking about how change happens, so that we can be more creative in devising strategies and more adept at facing the huge challenges that confront our societies and planet.
Contents

Overview

Introduction

1. Disciplinary approaches to how change happens

History

Politics

Sociology

Social anthropology

Psychology

Economics

Management and organisational studies

International relations and globalisation

Geography

Legal studies

Technology and science

Philosopy

Ecology

Cross-disciplinary approaches to how change happens

2. The rough guide to how change happens

The rough guide to how change happens

The abolition of the slave trade and slavery in Britain

3. Approaches to change in contemporary development thinking

Market liberalisation

Managed markets

Corporate social responsibility

International aid

Empowerment

Grassroots participation and social organisation

Reforming the state

Land reform and securing private property

Changing attitudes and beliefs

Endnotes
Roman Krznaric
Roman Krznaric is a cultural thinker and founding faculty member of The School of Life. He advises organisations including Oxfam and the United Nations on using empathy and conversation to create social change, and has been named by The Observer as one of Britain's leading lifestyle philosophers.
The language of leadership in Laos
Case, Peter
Connell, John G.
Jones, Michael J.
Leadership, Vol. 13 (2017), Iss. 2 P.173
https://doi.org/10.1177/1742715016658214
[Citations: 5]
A Case for Surfacing Theories of Change for Purposeful Organisational Capacity Development
Aragón, Alfredo Ortiz
IDS Bulletin, Vol. 41 (2010), Iss. 3 P.36
https://doi.org/10.1111/j.1759-5436.2010.00135.x
[Citations: 17]
A framework for analysing the links between religion and development
Rakodi, Carole
Development in Practice, Vol. 22 (2012), Iss. 5-6 P.634
https://doi.org/10.1080/09614524.2012.685873
[Citations: 23]
Breaking the Silos for Planetary Health
Breaking Out of Mental and Institutional Silos for Positive Transformation
de Paula, Nicole
2021
https://doi.org/10.1007/978-981-16-3754-4_4
[Citations: 0]
Foresight and Innovation
Change
Hiltunen, Elina
2013
https://doi.org/10.1057/9781137337702_1
[Citations: 0]
Scaling up malaria elimination management and leadership: a pilot in three provinces in Zimbabwe, 2016–2018
Chung, Amanda Marr
Case, Peter
Gosling, Jonathan
Gosling, Roland
Madinga, Munashe
Chikodzore, Rudo
Hove, Macdonald
Viljoen, Greyling
Chitapi, Precious
Gumbi, Matsiliso
Mnguni, Peliwe
Murungu, Joseph
Dube, Busisani
Dhliwayo, Patience
Mberikunashe, Joseph
Malaria Journal, Vol. 19 (2020), Iss. 1
https://doi.org/10.1186/s12936-020-03255-z
[Citations: 3]
The complexity of rural contexts experienced by community disability workers in three southern African countries
Booyens, Margaret
Van Pletzen, Ermien
Lorenzo, Theresa
African Journal of Disability, Vol. 4 (2015), Iss. 1
https://doi.org/10.4102/ajod.v4i1.167
[Citations: 13]
Beyond Cosmopolitanism
Cultivating Humanity? Education and Capabilities for a Global 'Great Transition'
Gasper, Des
George, Shanti
2018
https://doi.org/10.1007/978-981-10-5376-4_20
[Citations: 0]
Toward a Psychology of Social Change: A Typology of Social Change
de la Sablonnière, Roxane
Frontiers in Psychology, Vol. 8 (2017), Iss.
https://doi.org/10.3389/fpsyg.2017.00397
[Citations: 23]
Dramatic Social Change: A Social Psychological Perspective
de la Sablonnière, Roxane
French Bourgeois, Laura
Najih, Mariam
Journal of Social and Political Psychology, Vol. 1 (2013), Iss. 1 P.253
https://doi.org/10.5964/jspp.v1i1.14
[Citations: 19]
Football as a terrain of hope and struggle: beginning a dialogue on social change, hope and building a better world through sport
Forde, Shawn D.
Kota, Ayanda
Qualitative Research in Sport, Exercise and Health, Vol. 8 (2016), Iss. 5 P.444
https://doi.org/10.1080/2159676X.2016.1212915
[Citations: 6]
Fair trade and consumer social responsibility
Anderson, Matthew
Management Decision, Vol. 56 (2018), Iss. 3 P.634
https://doi.org/10.1108/MD-01-2017-0013
[Citations: 9]