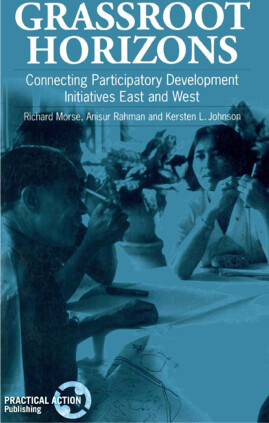 Grassroot Horizons
Connecting participatory development initiatives East and West
Richard Morse, Anisur Rahman, Kersten L Johnson
Grassroot activists and researchers build on their varied personal experiences to clarify and strengthen the effectiveness of participatory group action in overcoming impoverishment, oppression and exclusion.
Published: 1995
Pages: 396

eBook: 9781780445052
Paperback: 9781853392900
Grassroot activists and researchers build on their varied personal experiences to clarify and strengthen the effectiveness of participatory group action in overcoming impoverishment, oppression and exclusion.
Preface iii

About the Authors ix

I. A WORKSHOP THAT CONNECTED

1. WHY WAS THE WORKSHOP SPECIAL? 3

Editors, Looking Back 3

Who and Why the Workshop? 4

Criteria of Selection 4

Identifying Participants 5

On the Workshop Process 5

Songs and Opening Style 5

Agenda Review: Divergent Expectations 6

Experience- or Issue-Based Discussion? 7

Ways of Knowing 8

Revolt, Then Bonding 9

Ka'ala: the Weekend and After 9

Experiences and Principles of Participatory Action:

Fifteen Case Profiles 12

Dharma: Self-discipline and Love 12

Integrated Farming in the Philippines: The Whole Person 15

Coalitions of Fisherfolk: From the Visayas to Parliament 18

Creating People's Institutions in Inner City Chicago 19

Adapting Asian Institutions in Rural America 20

Knowing by Seeing, Confidence by Sharing: Newfoundland Model 21

The Deaf in Thailand: Overcoming Cultural Exclusion 23

In the Heajt of India: Education and Structural Struggles 26

Proshika: Plurality of Approaches in Bangladesh 29

"We do it Ourselves": Bangladesh Women's Organization 31

Living Together: A Base Community in Manila 34

Transforming the Law to Support People's Rights 36

Renewal with Nature: The Restoration of Hawaiian Identity 39

Evergreen: An Educational Base for Community Action 41

Single Women against Poverty: Overcoming Exclusion in Canada 43

Reflecting on the Profiles: Issues of Political Economy 43

Qualities and Relationships in Participatory Initiatives 45

Synthesis and Momentum 45

Forging the Synthesis 45

Synthesis Statement 49

Weaving the Lei 52

Editors' Reflections 53

II. IDENTITY AND SOLIDARITY

Preface to Part II 63

2. THE FOREIGN MISSIONARY ENTERS FILIPINO SOIL:

RECALL THE DISCONNECTIONS 67

Sister Christine Tan

3. GRASSROOTS COMMUNICATIVE ACTION AND CULTURAL

RENEWAL: BANGLADESH INITIATIVES 73

Syed A. Rahim

4. SINGLE MOTHERS UNITING AGAINST POVERTY 93

Sharon Taylor

5. SIGNS OF COMMUNITY: DEAF IDENTITY AND THE

PARADOX OF DIFFERENCE 123

Owen Wrigley

6. TOWARDS AN ALTERNATIVE DEVELOPMENT PARADIGM 151

Md. Anisur Rahman

Editors' Reflections, Part II 172

Self and Other: The Insider-Outsider Relationship 172

Help and Autonomy 174

Challenging, Cascading lib

III. BUILDING SPACES TO TRANSFORM THE

STRUCTURES

Preface to Part III 185

Editorial Opener 188

Creating Spaces to Change the Structures 188

7. SUSTAINABLE DEVELOPMENT IN THE PHILIPPINES:

THE LAKAS-ODISCO APPROACH 191

Laurentino D. Bascug

8. SELF-RELIANCE AMONG THE RURAL POOR:

LEARNING PROCESSES IN NORTH INDIA 207

Varun Vidyarthi

9. COMMUNITY-BASED, COMMUNITY-DETERMINED

EDUCATION: NEW PARTNERSHIPS BETWEEN UNIVERSITIES

AND INDIGENOUS PEOPLE'S COMMUNITIES 229

Russell Fox and Carol Minugh

Addendum: Widening Spaces through Participatory

Video 240

Tony Williamson

10. COALITION-BUILDING IN DIVERSITY 243

Kari Anderson Lende

Editors' Reflections, Part HI 265

Structures, Scale, Coalition-building 265

Counterviolence or Nonviolence? 268

Autonomy, Rights, Nonviolence 271

IV. TRANSFORMATIONS THE COMPASS ROUND

Preface to Part IV 277

Editorial Openers 281

Equity Overcoming Deprivation: First Change the Discourse 281

Moving Inward West and East, North and South:

Control of Assets 284

Self and Other: When We Connect 293

11. THE ENVIRONMENT AND DEMOCRATIC PROCESSES:

NGO ROLES IN BANGLADESH 299

Khushi Kabir

12. A THAI COMMUNITY EXPERIENCE IN BIODIVERSITY

CONSERVATION: DEFINITIONS FROM THE INSIDE 309

Penny Levin

13. LOCALLY BASED, ECOLOGICALLY SOUND, AND SOCIALLY

INNOVATIVE DEVELOPMENT: THE CONTRIBUTIONS OF

COMMUNITY SUPPORTED AGRICULTURE TO THE

GLOBAL DIALOGUE 325

Arthur Getz

14. SUSTENANCE AND SUSTAINABILITY: SOME VALUES AND

PRINCIPLES UNDERLYING SOCIALLY-JUST, SUSTAINABLE

DEVELOPMENT 345

Kersten L. Johnson

15. THE WORKSHOP AS A BRIDGE 369

Puanani Burgess
Richard Morse Richard Morse has co-coordinated the Participatory Development Group and Forum with Kersten Johnson at the East-West Center, where he is Senior Fellow Emeritus.