Book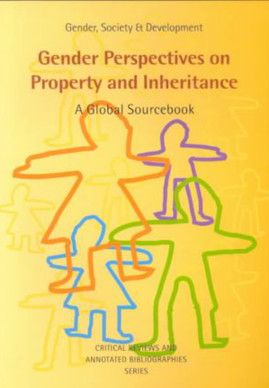 Gender Perspectives on Property and Inheritance
Series: Gender, Society & Development
Published: 2001
Pages: 144

eBook: 9780855987534
Paperback: 9780855984618
Legal and customary arrangements and practices govern women's rights to resources, such as land and housing. This book highlights women's unequal position in formal and customary laws and practices and the way in which gender relations affect men's and women's access to property through inheritance. The introduction examines how gender relations define the ownership and control of property and the attention that the issue of gender equality has received in the development agenda. Five reviews from Latin America, Ivory Coast, South Africa, the Middle East and India focus on the disjuncture between law and practice in terms of women's property and land rights, inheritance, access to resources, marriage and employment. The contributors also reflect on the importance of women's participation in decision-making forums and the need for women's political organisation and mobilisation in order to redress gender imbalances in land and inheritance rights. The book ends with a large resources section featuring an annotated bibliography, a list of relevant organisations and Web resources.
Acknowledgements

Preface

Acronyms

Introduction: women and property, women as property

Maitrayee Mukhopadhyay

1 Disjuncture in law and practice: women's inheritance of land in Latin America

Carmen Diana Deere and Magdalena León

2 Changing the meaning of marriage: women and family law in Côte d'Ivoire

Jeanne Maddox Toungara

3 Family laws and gender discrimination: advocacy for legal reforms in the Arab region

Lina Abou-Habib

4 Women, tenure and land reform: the case of Namaqualand's Reserves

Fiona Archer and Shamim Meer

5 Does land ownership make a difference? Women's roles in agriculture in Kerala, India

Shoba Arun

Annotated bibliography

Guide to the bibliography

Annotated bibliography

Author index

Geographical index

Web resources

About the authors
Sarah Cummings
Sarah Cummings is Senior Consultant at CDC. Sarah is a founder editor and co-Chief Editor of the open access, peer reviewed Knowledge Management for Development Journal. She is a member of the Advisory Board of Hivos and of the Editorial Board of the journal, Development in Practice.