Book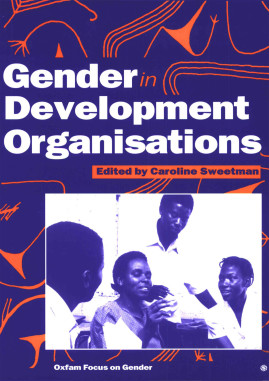 Gender in Development Organisations
Published: 1997
Pages: 72

eBook: 9780855987497
Paperback: 9780855983659
Over the past decade, organisations working on development issues have taken an increasing interest in women's needs and rights. But working on promoting awareness of women's marginalisation demands more than an equal opportunities policy. This book draws together the experience of organizations working to promote women's full participation in the development process, looking at the obstacles that stand in the way. Issues examined include gender auditing; the institutionalization of gender; the experience of a UN agency of integrating gender into its country programme; the process of creating a gender strategy and using gender training.
* Editorial

Caroline Sweetman

* Rethinking organisations: a feminist perspective

Aruna Rao and Rieky Stuart

* Managing organisational change: the 'gendered' organisation of space and time

Anne Marie Goetz

* Implementing a Gender Policy in ACORD: strategies, constraints, and challenges

Angela Hadjipateras

* Establishing a feminist culture: the experience of Zimbabwe Women's Resource Centre and Network

Hope Chigudu

* AFRA confronts gender issues: the process of creating a gender strategy

Moya Bydawell

* Promoting women entrepreneurs in Lebanon: the experience of UNIFEM

Randa Husseini

* Women's rights, the family, and organisational culture: a Lesotho case study

Elizabeth Everett

* Making the Human Development Index (HDI) gender-sensitive

Shalendra D Sharma

* Interview: Magda Mateus Cardenas

* Resources

* Book Review: Gender, Culture, and Organisational Change: Putting theory into Practice Itzin C and Newman J (eds)
Caroline Sweetman was previously Editor of the international journal Gender & Development.