Book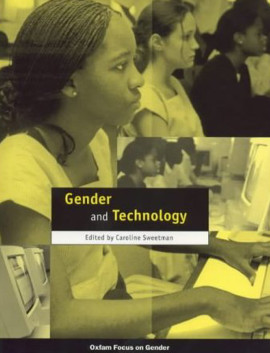 Gender and Technology
Published: 1999
Pages: 88

eBook: 9780855987312
Paperback: 9780855984229
The delivery of new technologies to communities in developing countries has been hailed as the key to economic and social progress. However, women's experiences show that this view is an exaggeration, over-simplifying the potential of technology to deliver `development`. Different technologies in varying social contexts offer opportunities to challenge existing barriers to economic and political participation, but they can also be used to consolidate existing imbalances of power. This collection of articles from Gender and Development considers technologies of many kinds, including those intended to save women`s labour, to enable them to control their fertility and to learn and communicate using computer technology. Writers include Radhika Gajjala and Annapurna Mamidipudi, Heather Schreiner and Maggie Foster.
* Editorial

Caroline Sweetman

* Cyberfeminism, technology and international 'development'

Radhika, Gajjala and Annapurna Mamidipudi

* Supporting the invisible technologists: the IDTG approach

Maggie Foster

* Marketing treadle pumps to women farmers in India, the IDE India experience

Maya Prabhu

* Reproductive health technology and gender: is participation the key?

Katie Chapman and Gill Gordon

* Rural development and women: What are the best approaches to communicating information?

Joyce A. Otsyina and Diana Rosenberg

* Skilled craftswomen or cheap labour? Craft-based NGO projectsas an alternative to female urban migration in northern Thailand

Rachel Humphreys

* Rural women, development, and telecomunications: A pilot programme in South Africa

Heather Schreiner

* The denigration of women in Malawian radio commercials

Charles Chilimampunga

* Resources

* Books and papers

* Journals

* Organisations

* Internet resources

* Electronic discussion groups
Caroline Sweetman was previously Editor of the international journal Gender & Development.