Book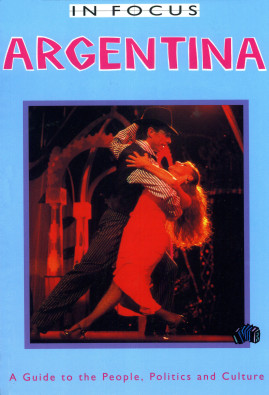 Argentina In Focus
A Guide to the People, Politics and Culture
Series: Latin America In Focus
Published: 1996
Pages: 76

eBook: 9781909013001
Paperback: 9781899365036
Famous as the birthplace of tango, Argentina has known spectacular prosperity and devastating crises. Once the export powerhouse of Latin America, the country has suffered a cycle of military repression and economic mismangement. But despite wasted potential, Argentina remains one of the region's most dynamic countries, rich in natural resources and cultural expression. From cosmopolitan Buenos Aires to remote Patagonia, Argentina is a country of unexpected contrasts.

Argentina in Focus is an authoritative and up-to-date guide to this fascinating country. It explores:
- The culture: the rise of tango; Maradona and football; the cult of Eva Peron; the gauchos - Argetina's cowboys; vibrant Buenos Aires.
- The politics: the legacy of Peronism and military rule; human rights controversies; the Falklands issue; the career of President Menem.
- The economy: the riches of the pampas; the lessons of privatisation; the hyper-inflation nightmare; poverty among wealth.
- The society: Buenos Aires versus the provinces; indigenous Argentines; the impact of immigration; women in society.

Argentina in Focus is the sixth in a series of guides, covering the countries of South and Central America and the Caribbean. It contains maps, photos, facts and figures as well as practical suggestions on where to go and what to see.
Prelims - Argentina In Focus (Title Page, Copyright Information, Contents, Introduction)

1. Argentina In Focus
Nick Caistor is a British writer and translator who has visited Mexico regularly for more than 40 years. A former BBC Latin America analyst, he has written books on the history and culture of Mexico City, and the Meixcan poet Octavio Paz.