Book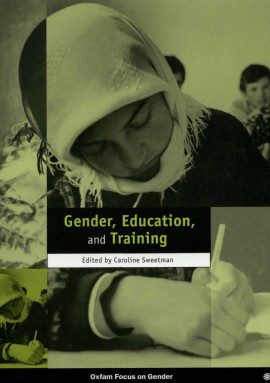 Gender, Education and Training
Published: 1998
Pages: 80

eBook: 9780855987459
Paperback: 9780855984007
This collection of articles by development workers and researchers focuses on learning opportunities for women offered by education and training. There is a continuing imbalance in educational participation - women make up an estimated two-thirds of the world's illiterate people - and writers reflect on the causes and consequences of this. While this lack of opportunity to learn is shocking in itself, equal access to existing services is not sufficient to make education empowering for women. Too often the formal education system serves merely to confirm gender stereotypes and school women for subordination. Some writers examine the scope offered by non-formal education to challenge male-biased systems, including training for challenging gender-based inequality.
* Editorial

Caroline Sweetman

* Gender, education and training: an international perspective

Fiona Leach

* Education for women's empowerment or schooling for women's subordination?

Sara Hlupekile Longwe

* The REFLECT approach to literacy and social change: a gender perspective

Sara Cottingham, Kate Metcalf and Bimal Phnuyal

* Approaches to gender-awareness raising: experiences in a government education project in Nepal

Mo Sibbons

* Campaigning against female genital mutilation in Ethiopia using popular education

Beatrice Saodacini and Pamela nichols

* 'Girls cannot think as boys do': socialising children through the Zimbabwean school system

Rosemary Gordon

* Gender training for development practitioners: only a partial solution

Fenella Porter and Ines Smyth

* Conference report: Fifth International Conference on adult education (CONFINTEA), Hamburg, Germany, 1997

Carolyn Medel-Anonuevo

* Resources

Compiled by Sam Chamberlain

* Book Review

* Further reading

Resources on training for women/gender training

* Journals

* Organisations

* Web resources

* E-mail lists
Caroline Sweetman
Caroline Sweetman is Editor of the international journal Gender & Development and works for Oxfam GB.