Book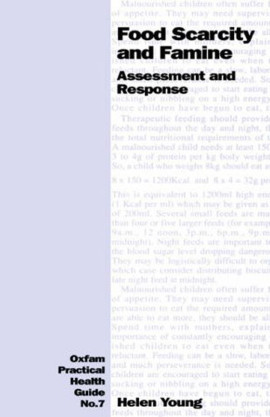 Food Scarcity and Famine
Assessment and response
Series: Practical Health Guides
Published: 1992
Pages: 132

eBook: 9780855987206
Paperback: 9780855981457
Over the years Oxfam has been involved in a wide variety of health-related projects. The Practical Health Guides draw on this experience to put forward ideas on best practice in the provision of health care and services in developing countries. Where people are suffering from food scarcity or famine, the obvious response seems to be food aid. This may indeed be necessary, but handing out food may not be the best solution, and other actions could be equally urgent, such as public health or income support measures. This book provides a new approach to assessing and responding to situations of food scarcity and gives a comprehensive explanation of how to assess these situations in order to judge which interventions will be most effective. This book offers advice on carrying out initial assessments and nutrition surveys, and emphasises the importance of finding out the underlying causes of food scarcity by seeking out the views of those affected. Food distribution, and how to target the people who need it most, supplementary and therapeutic feeding programmes, are also covered.
Acknowledgements

Introduction

Part 1: Food scarcity, famine and malnutrition

1.1 Food scarcity and famine

1.2 Nutrition and malnutrition

1.3 Looking at the wider picture

Part 2: Assessments and surveys

2.1 Deciding what information you need for decision making

2.2 Choosing methods of collecting the information

2.3 Planning your assessment and organising your team

2.4 Analysing and interpreting your findings

2.5 Presenting your findings

Part 3: Using your findings in making decisions

3.1 Your analysis of the situation

3.2 Choosing the appropriate response

3.3 Targeting

Part 4: Food distribution

4.1 Some problems that might occur

4.2 General food rations

4.3 Supplementary feeding programmes

4.4 Therapeutic feeding

Conclusion

Appendix 1: Early warning

Appendix 2: Wealth ranking

Appendix 3: Selecting clusters for a nutrition survey

Appendix 4: Nutrition survey statistics

Appendix 5: How to measue children

Appendix 6: Report format

Appendix 7: Vitamin and mineral deficiencies

Appendix 8: Nutritional value of food aid commodities and common foods in Africa

Appendix 9: Oxfam kits

Appendix 10: Food aid biscuits

Appendix 11: Recipes for supplementary feeding programmes

Appendix 12: Food storage

Further reading

Glossary

Index
Helen Young
Helen Young leads the Darfur Livelihoods Programme at the ODI, which combines research, capacity development and institutional change. As a Research Fellow at the Overseas Development Institute, in Sussex, she reviewed nutritional assessment and response to situations of food insecurity and famine.
The politics of food and starvation
Bush, Ray
Review of African Political Economy, Vol. 23 (1996), Iss. 68 P.169
https://doi.org/10.1080/03056249608704194
[Citations: 4]
A Computer Assisted Exercise in Classifying Nutritional Status: A New Tool for Learning
MACFARLANE, S.B.J.
McCONNELL, C.R.
RUSSELL, W.B.
Disasters, Vol. 17 (1993), Iss. 1 P.70
https://doi.org/10.1111/j.1467-7717.1993.tb00490.x
[Citations: 1]
Tactical network planning for food aid distribution in Kenya
Rancourt, Marie-Ève
Cordeau, Jean-François
Laporte, Gilbert
Watkins, Ben
Computers & Operations Research, Vol. 56 (2015), Iss. P.68
https://doi.org/10.1016/j.cor.2014.10.018
[Citations: 41]
Method for estimating body weight in persons with lower-limb amputation and its implication for their nutritional assessment
Mozumdar, Arupendra
Roy, Subrata K
The American Journal of Clinical Nutrition, Vol. 80 (2004), Iss. 4 P.868
https://doi.org/10.1093/ajcn/80.4.868
[Citations: 25]
Refugee Density and Dependence: Practical Implications of Camp Size
COSGRAVE, JOHN
Disasters, Vol. 20 (1996), Iss. 3 P.261
https://doi.org/10.1111/j.1467-7717.1996.tb01038.x
[Citations: 3]
Bringing Population Dynamics into Food Balance Sheet Calculations
KELLY, CHARLES
Disasters, Vol. 18 (1994), Iss. 2 P.171
https://doi.org/10.1111/j.1467-7717.1994.tb00299.x
[Citations: 0]
Human right to food security in refugee settings: rhetoric versus reality
Renzaho, André M N
Australian Journal of Human Rights, Vol. 8 (2002), Iss. 1 P.43
https://doi.org/10.1080/1323238X.2002.11911072
[Citations: 5]
Livelihood adaptation to risk: Constraints and opportunities for pastoral development in Ethiopia's Afar region
Davies, Jonathan
Bennett, Richard
The Journal of Development Studies, Vol. 43 (2007), Iss. 3 P.490
https://doi.org/10.1080/00220380701204422
[Citations: 59]
Livestock Improve Household Food Security and Sustainability of Ethiopian Small Farms
Kassa, Habtemariam
Gibbon, David
Singh, Bharat P.
Journal of Sustainable Agriculture, Vol. 21 (2002), Iss. 2 P.73
https://doi.org/10.1300/J064v21n02_07
[Citations: 8]
Resources, reviews and miscellaneous
Gender & Development, Vol. 2 (1994), Iss. 1 P.59
https://doi.org/10.1080/09682869308520003
[Citations: 0]
Assessing the levels of food shortage using the traffic light metaphor by analyzing the gathering and consumption of wild food plants, crop parts and crop residues in Konso, Ethiopia
Ocho, Dechassa Lemessa
Struik, Paul C
Price, Lisa L
Kelbessa, Ensermu
Kolo, Koshana
Journal of Ethnobiology and Ethnomedicine, Vol. 8 (2012), Iss. 1
https://doi.org/10.1186/1746-4269-8-30
[Citations: 17]