Book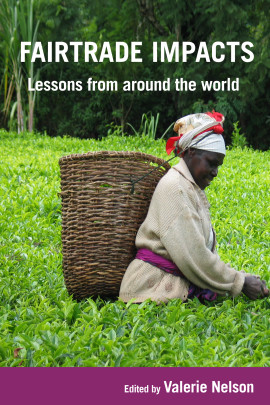 Fairtrade Impacts
Lessons from around the world
Published: 2017
Pages: 140

eBook: 9781780449067
Paperback: 9781853399077
Hardback: 9781853399060
Fairtrade goods are claimed to empower producers, and promote sustainable livelihoods, and it is these claims that attract consumers who willingly pay a premium for the sake of the benefits that they expect will be experienced by smallholders in developing countries. But what is the evidence for these improved impacts? How are these benefits measured, and what would be realistic expectations of the degree to which Fairtrade and other sustainability standards can tackle rural poverty in developing countries? Does Fairtrade exclude some groups or geographical regions? Do we know that benefits to smallholders reach their hired labourers? How can Fairtrade and other sustainability standards learn from empirical impact studies to reflect upon their theories of change and improve their impact?

Exploring the impacts of Fairtrade presents a series of rich, detailed case studies from the field distilling insights and lessons about the contribution of Fairtrade and sustainability standards to different social groups in particular geographies. The book seeks to contribute to the lively debate on the impact of such schemes by showing the diverse outcomes and impacts that such schemes have as they are adopted or implemented in different geographical production and value chain contexts around the world. The different cases show the many limitations of such schemes, but also discuss potential strategies for improvement.

This book is essential reading for all those interested in value chain development, fair and ethical trade, and sustainability standards, including researchers, students, policy makers, companies and those working for development agencies.

1. Introduction: the impact of Fairtrade

Valerie Jane Nelson

2. Exploring issues of rigour and utility in Fairtrade impact assessment

Valerie Jane Nelson and Adrienne Martin

3. Why 'place' matters in the development and impacts of Fairtrade production

Cheryl Mcewan, Alex Hughes, David Bek and Zaitun Rosenberg

4. Partnerships in Fairtrade coffee: a close-up look at how buyers and NGOs build supply capacity in Nicaragua

Jason Donovan and Nigel Poole

5. Enhancing Fairtrade for women workers on plantations: insights from Kenyan agriculture

Muhaimina Said-Allsopp and Anne Tallontire

6. Access to the Fairtrade system: the geography of certification for social justice

Alastair M. Smith

7. Fairtrade, sustainability standards, and the informal economy: What role for hired labourers?

8. Fairtrade, fair-trade, fair trade and ethical trade: reflections of a practitioner

Adam Brett

9. Debate: 'Does Fairtrade have more impact than conventional trade or trade certified by other sustainability standards?'

Matthew Anderson, Philip Booth and Sushil Mohan

Index
'This book is a welcome addition to the growing empirical literature on the real impact of Fairtrade on rural producers, traders and farm workers in different agro-food sectors. Valerie Nelson did a remarkable job in bringing together perspectives on social justice, gender empowerment, environment and civic organization that enable a balanced appraisal of the ongioing efforts towards the renewal of Fairtrade.'
Professor Ruerd Ruben, Coordinator Food Security, Value Chains & Impact Analysis Agricultural Economics Institute (LEI) Wageningen University and Research Centre


'This book avoids the elusive quest for attribution of impact to an inexistent generic 'fair trade'. It argues instead for a balance between rigour and usefulness in impact studies, showing the way forward with resource-full and instructive country case-studies about context-specific impact processes.'
Dr. Johan Bastiaensen, Professor in development studies, Institute of Development Policy and Management (IOB), University of Antwerp, Belgium (Prinsstraat 13, B-2000 Belgium).

The nature of fair trade exchanges and their outcomes: Producer voices in Vietnam and India
Salignac, Fanny
Bhatia, Bhanu
Tallontire, Anne
Business Strategy & Development, Vol. 4 (2021), Iss. 4 P.437
https://doi.org/10.1002/bsd2.169
[Citations: 2]