Book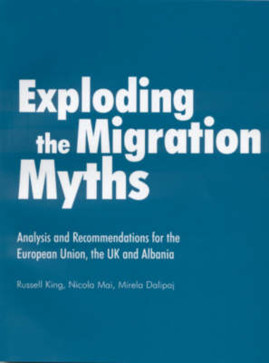 Migration has become a central issue in a heated political and media debate in Britain and throughout Europe. But the issues have often become confused and mythologised. This report seeks to contribute to a more mature public debate - and to more effective and just policy responses - through an in-depth study of the forces driving migration, and the strategies which seek to govern it. Exploding the Migration Myths draws upon a year-long Fabian Society and Oxfam joint research project into the causes and consequences of migration. It looks in details at the case of migrants from Albania, the poorest country in Europe, their experience in the UK, and the impact on their home country, from remittances to the loss of human capital. By speaking to migrants themselves, whose voices are usually missing from this debate, the report identifies the real reasons behind migration and what drives those who undertake it. The report seeks a more holistic approach, linking development policy with domestic policies on entry and integration. The report makes a number of policy recommendations, arguing that the choice between allowing or stopping migration is a false one. Migration is a fact, which is affecting all countries in the developed and developing worlds. The real choices are in how we govern migration, Exploding the Migration Myths argues that either we create paths to legal migration, for unskilled as well as skilled workers, or migration will remain illegal, often controlled by transnational criminal gangs. As the report shows, migration can potentially benefit both the host societies and countries of origin. But an approach that seeks to maximise the benefits and to control the costs of migration depends centrally on how we choose to govern it.
Executive summary and recommendations

Introduction

Migrants' voices: Experience of Albanian migrants

Back home: The impact of migration on households in Albania

Migration and poverty: A viable policy framework

References
Russell King
Russell King is Professor of Geography at the University of Sussex and Director of the Sussex Centre for Migration Research. He is the co-author of Out of Albania: From Crisis Migration to Social Inclusion in Italy (2008), and editor of the Journal of Ethnic and Migration Studies.
Nicola Mai
Nicola Mai is Morris Ginsberg Fellow in Sociology at the London School of Economics