Book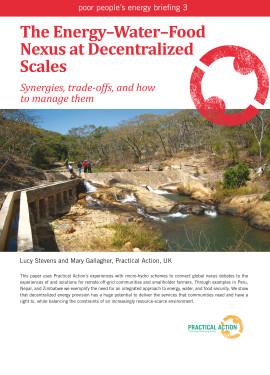 The Energy–Water–Food Nexus at Decentralized Scales uses Practical Action's experiences with micro-hydro schemes to connect global nexus debates to the experiences of and solutions for remote off-grid communities and smallholder farmers. Through examples in Peru, Nepal, and Zimbabwe it exemplifies the need for an integrated approach to energy, water, and food security and shows that decentralized energy provision has a huge potential to deliver the services that communities need and have a right to, while balancing the constraints of an increasingly resource-scarce environment.
Executive summary

Introduction

The global debate on nexus issues

Learning from the past: nexus synergies and trade-offs

Planning for the nexus: examples from Zimbabwe

Conclusion

Notes

References
Lucy Stevens
Lucy Stevens is Senior Policy and Practice Adviser with Practical Action, UK. She leads the organisation's influencing and learning strategy on energy access.
Mary Gallagher
Mary Gallagher was a Policy Officer for Practical Action and focuses on improving the access of poor women and men to energy services, contributing to the organisations' vision of achieving Total Energy Access.
Connecting the Sustainable Development Goals: The WEF Nexus
The 2030 Agenda for Sustainable Development and the WEF Nexus
Spinazzola, Matteo
Cavalli, Laura
2022
https://doi.org/10.1007/978-3-031-01336-2_1
[Citations: 0]
Tackling Trade-offs in the Nexus of Water, Energy and Food
Pittock, J.
Orr, S.
Stevens, L.
Aheeyar, M.
Smith, M.
Aquatic Procedia, Vol. 5 (2015), Iss. P.58
https://doi.org/10.1016/j.aqpro.2015.10.008
[Citations: 26]