Book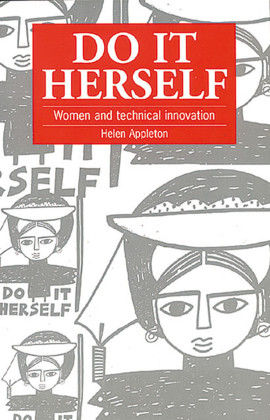 Do It Herself
Women and technical innovation
Published: 1995
Pages: 320

eBook: 9781780444796
Paperback: 9781853392870
Although women are the majority of small-scale technology users, their technical knowledge and understanding has largely been overlooked. This book investigates the contributions of women to technical innovation at a grassroots level, using 22 case studies of technical innovation by women in 16 countries in Africa, Asia and Latin America.
ACKNOWLEDGEMENTS vii

INTRODUCTION 1

Part I Latin America

Banana drying in Bolivia 17

XIMENA MACHICAO BARBERY

Efficient domestic fuel use in Chile 34

WALDO BUSTAMANTE GOMEZ

Building hope: self-management and construction 47

MARCELA ARANCIBIA BALLESTER and ANA MARfA SALINAS BRIONES

Changing attitudes to health in the Dominican Republic 60

LOURDES PERDOMO DE GOMEZ, MARIA DOLORES MATEO

MONTERO and RITA OTTE

Functional pottery in Nicaragua 82

FRANgOISE ROMEO B.

Pork processing in Peru 100

MERCEDES L6PEZ PINEDO

The preparation of Andean products in Peru 109

MARfA ESTRELLA CANTO SANABRIA

Coping with a lack of electricity in marginal urban areas 122

LOURDES PALAO YTURREGUI

Vegetable production units in Venezuela 134

LUIS MIGUEL ABAD, IGNACIO ALZURU, LOKMAN GONZALEZ, ROSENDO

MORENO and JAVIER VAZQUEZ

Part II Africa

Shea butter extraction in Ghana 157

YVONNE WALLACE-BRUCE

Pottery technology in Kenya 162

JOSEPHINE A. MUTAGAYWA

Indigenous vegetables in Kenya 167

WINNIE OGANA

Salt extraction in Sierra Leone 172

BERNADETTE LAHAI

Fermented foods in Sudan 177

HAMID A. DIRAR

Cassava processing in Uganda 181

ERIOTH SIMWOGERERE

Nkejje fish in Lake Victoria 185

IRENE FLORENCE WEKIYA

Survival skills of Tonga women in Zimbabwe 188

RODGER MPANDE and NOMA MPOFU

Part III Asia

Land reclamation in Bangladesh 197

AYESHA SHANJAHAN

Manual silk reeling in India 207

PRABHA SHEKAR

Carpet making in Nepal 231

PRABHAR THACKER

Coir workers in Sri Lanka 249

KAMALA PEIRIS

Food processing in Sri Lanka 275

PADMINI ABEYWARDENE

CONCLUSION 298

REFERENCES 306
Helen Appleton
Helen Appleton is currently working as Senior Social Development Adveriser for Government Agency based in Islamabad, Pakistan. Between 1989-1997, she worked for Practical Action.
The lost 1990s? Personal reflections on a history of participatory technology development
Biggs, Stephen
Development in Practice, Vol. 18 (2008), Iss. 4-5 P.489
https://doi.org/10.1080/09614520802181228
[Citations: 17]
Impact of Technology on Women: Strategies for Non-formal Education
Mohsin, Selina
Indian Journal of Gender Studies, Vol. 7 (2000), Iss. 1 P.101
https://doi.org/10.1177/097152150000700108
[Citations: 1]
The Companion to Development Studies
8 Women and political representation
2013
https://doi.org/10.4324/9780203773420-86
[Citations: 0]
Editorial
Gender & Development, Vol. 7 (1999), Iss. 2 P.2
https://doi.org/10.1080/741923127
[Citations: 2]
Supporting the invisible technologists: The Intermediate Technology Development Group
Foster, Maggie
Gender & Development, Vol. 7 (1999), Iss. 2 P.17
https://doi.org/10.1080/741923123
[Citations: 0]
Knowledge and/as Power: A Feminist Critique of Trade Related Intellectual Property Rights
Barwa, Sharmishta
Rai, Shirin M.
Gender, Technology and Development, Vol. 7 (2003), Iss. 1 P.91
https://doi.org/10.1080/09718524.2003.11910065
[Citations: 3]
The gender division of labor in rice post-harvest processing in Sierra Leone: Implications for extension and technology development
Kroma, Margaret M.
The Journal of Agricultural Education and Extension, Vol. 8 (2002), Iss. 4 P.181
https://doi.org/10.1080/13892240285300221
[Citations: 2]