Book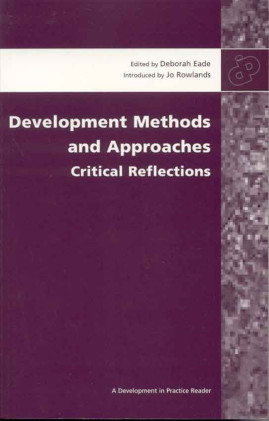 Development Methods and Approaches
Critical reflections
Series: Development in Practice Reader
Published: 2003
Pages: 304

eBook: 9780855987008
Paperback: 9780855984946
Many aid agencies advocate approaches to development which are people-centred, participatory, empowering and gender-fair. This volume of essays explores some of the middle ground between such values-based approaches and the methods and techniques that the agencies adopt. The selection offers critical assessments of fashionable tools such as Participatory Rural Appraisal and Logical Framework. It demonstrates how these are linked (conceptually and in practice) to the wider ideological environment in which they are used, and shows how they depend upon the skills of the fieldworker and/or organization applying them. Contributors argue that tools and methods will contribute to a values-based approach only if those using them have a serious commitment to a social agenda which is genuinely transformative.
Contributors

Preface Deborah Eade

Beyond the comfort zone Jo Rowlands

Dissolving the difference Hugo Slim

Should development agencies have Official Views David Ellerman

Bridging the macri-micro divide David Booth

Capacity Building William Postma

Operationalising bottom up learning Grant Power

Organisational change Penny Plowman

Beyond the grim resisters P Howard

Sustainable investments B Thomas Slayter

Critical Incidents M Raymond-McKay

Tools David Wield

Ethnicity and participatory development T Mompati

Logical Framework Approach and PRA Jens Aune

Critical reflections on rapid and participatory rural appraisal Robert Leurs

Participatory methodologies E Ngunjiri

The participatory change process P Castelloe
Deborah Eade
Deborah Eade was Editor-in-Chief of Development in Practice from 1991 to 2010, prior to which she worked for 10 years in Latin America. She is now an independent writer on development and humanitarian issues, based near Geneva.
Jo Rowlands Jo Rowlands is Senior Global Programme Adviser on governance and institutional accountability for Oxfam GB.