Book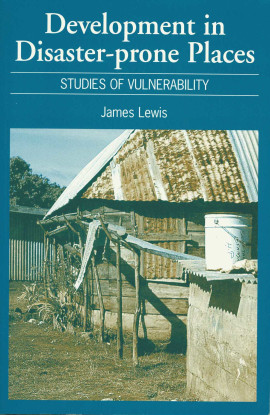 Development in Disaster-Prone Places
Studies of vulnerability
Published: 1999
Pages: 192

eBook: 9781780442013
Paperback: 9781853394720
This book addresses the long-overdue imbalance in disaster management: an over-emphasis on post-disaster assistance and a lack of attention to vulnerability reduction. It answers the fundamental question in this debate: how can we mould pre-disaster development initiatives to become the most appropriate means for vulnerability reduction The book reasserts and reapplies some of the basic concepts and issues which emerged in the 1960s and 1970s, with the message that development is a prime medium both of vulnerability and its reduction. The author examines requirements for long-term change so that conditions which have become the context for catastrophe can be modified. By focusing on longer-term policies and activities now, emergency relief efforts have a positive context within which to contribute to development and the likelihood of recurrence will be reduced. The book contains case-studies from Sri Lanka, the Caribbean and the South Pacific and focuses on hazards of all kinds, setting out to redress the balance between large-scale disasters of global significance and small-scale disasters that are a matter of everyday existence.
Section Title
Page
Action
Price

Title of Page

iii

Copyright Page

iv

Table of Contents

v

Foreword

viii

Preface

ix

Acknowledgements

x

Introduction

xi

Part One: Vulnerability

1

10: The Next Ten Years and More

162

References

164

Index

170

1: The Meaning of Vulnerability

3

National and Local Vulnerability

3

The Meaning of Vulnerability

4

Vulnerability and Risk

8

2: The Observation, Perception and Identification of Vulnerability

12

Observation of Vulnerability

12

Perception of Vulnerability

12

Identification of Vulnerability

14

Movement of Populations

16

Historical Studies

18

Small Countries and Island States

18

Climate Change and Sea Level Rise

20

3: The Experience of Vulnerability

23

Dependency

23

National Vulnerability

23

Social Vulnerability

24

Institutional, Military and Systems Vulnerability

24

Economic Vulnerability

25

Environmental Vulnerability

26

4: The Making of Vulnerability

27

Population Displacement

27

Commercial Agriculture

27

Erosion and Flooding

28

Urban Shanty Settlements

29

Coastal Tourism

29

Disasters as Agents of Future Vulnerability

30

Conflict and Vulnerability

32

Algeria

32

Papua New Guinea

33

Ethiopia

34

5: Survival – Vulnerability and Development

36

Survival; A Neglected Issue

36

Post-disaster Assistance and Vulnerability

37

Vulnerability and Development

39

Part Two: Studies of Vulnerability

43

Vulnerability and the Analysis of Context

45

The Reporting of Disasters

45

Prevailing Conditions and Characteristics

46

Island Places

47

Recurring Themes

48

The Incumbent and the Creator of Vulnerability

48

Massive Proportional Impacts and Small-scale Responses

48

Recurrence

50

Interrelationships

51

Mutual Protection

51

Maintenance

51

The Case-studies

52

Case-studies

54

I: Volcano in Tonga

54

II: Some Perspectives on Natural Disaster Vulnerability in Tonga

60

III: A Multi-hazard History of Antigua

74

IV: Vulnerability to a Cyclone: Damage Distribution in Sri Lanka

87

V: Change, and Vulnerability to a Natural Hazard: Chiswell, Dorset

109

Part Three: A Pattern for Development

125

6: Development and Disasters

127

A Brief History

127

A Cyclical Concept

129

Institutions and Policies

131

Management for Comprehensive Development

133

7: Equitable Preventive Development

137

Equitable Practice

137

Decentralization and Accessibility

138

Survival and Recovery

141

Vulnerability and Sustainability

142

8: Vulnerability Reduction in Development

145

A Review

145

Disasters – The Monitor of Development

146

Urban and Rural Balance

146

Preventive Development

147

Project Identification

150

Reconstruction and Implementation

151

9: Strategic Development for Vulnerability Reduction

153

Insider Assessments

156

Recurrence

157

Survival, Equitability, Sustainability – and Interrelatedness

157

Populations

158

Social Infrastructure

158

Physical and Other Infrastructure

159

Emergency Assistance

159

Policy and Administration

159
James Lewis
James Lewis is a visiting fellow in Development Studies at the University of Bath and a consultant in environmental hazards and human settlements.