Book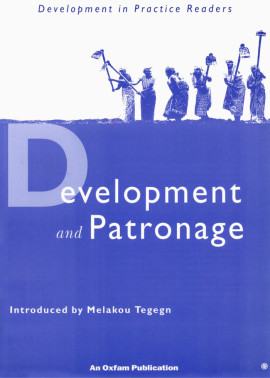 Development and Patronage
Selected articles from Development in Practice
Series: Development in Practice Reader
Published: 1997
Pages: 112

eBook: 9780855986933
Paperback: 9780855983765
Some argue that the concept of development is far from a liberating process for all. It is contended that much of what has been done in the name of development has served to reinforce the intellectual, material and financial dependence of those on the receiving end. Some argue that the very concept of development is essentially a vehicle in which cultural values and social norms as well as resources are exported from one part of the world to another, along a one-way route from rich to poor. Aid thus becomes a means by which unequal relationships of power are maintained and patronage is fostered. This reader examines these issues, which are currently being debated in development circles, through a selection of articles by contributors from North and South.
* Preface

Deborah Eade

* Introduction

Melakou Tegegn

* Patriarchal pot and the evaporation of gender-olicies

Sara Hlupekile Longwe

* Africa libraries and the consumption and production of knowledge

Paul Tiyambe Zelesa

* Collaboration with the South:agents of aid or solidarity?

Firoze Manji

* Partners and beneficiaries: questioning donors

Richard Moseley-Williams

* NGOs and social change: agents or facilitators?

Jenny Pearce

* Depoliticizing development: the uses and abuses of participation

Sarah White

* People's empowerment from the people's perspective

Karawunathie Menike

* Development projects, organizations and professionals

David Craig

* Sustainable development at the sharp end

Cecile Jackson

* Building partnerships between Northern and Southern NGOs: issues for the 1990s

Alan Fowler

* World Bank country assistance strategies: a story from Mexico

Carols Heredia and Mary Purcell

* On being evaluated: tensions and hopes

Movimento de Organizacao Communitaria

* Sustainability is not about money

Deryck Brown

* Annotated bibliography
Melakou Tegegn Melakou Tegegn was born in Ethiopia, has an MA in development studies and a PhD in sociology. He has worked for international NGOs such as El Taller, Panos Ethiopia and the Nile Basin Discourse. He is currently involved in the human rights issues of indigenous peoples at the UN and African Unions levels.