Book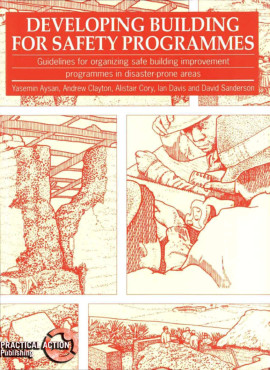 Developing Building for Safety Programmes
Guidelines for communicating technical information to local builders and householders
Yasemin Aysan, Andrew Clayton, Alistair Cory, Ian Davis
Published: 1995
Pages: 172

eBook: 9781780444758
Paperback: 9781853391842
Developing Building for Safety Programmes summarizes the basic principles to be considered in the planning and implementation of community-based building improvement programmes for small dwellings in disaster-prone areas. Including case studies illustrating suggestions made. These guidelines for safe building improvement programmes in disaster-prone areas cover a range of topics and emphasize that the constraints on the building of dwellings are complex interactive procedures.The relationships between technical, social, economic and political considerations is rarely clear - particularly when seen from the standpoint of the builder or occupier.
Introduction 1

Who is this book for? 3

What is this book for? 3

1. Communication in planning 5

Community participation, 5

Information gathering in the field, 7

How people change, 11

2. Educational materials 14

Choice of media, 14

Demonstration buildings, 19

Local relevance, 20

How many messages? 21

Preproduction testing, 21

Educational context, 27

Training, 27

Impact assessment, 28

3. Illustrating building for safety 32

Picture styles, 33

Symbols and conventions, 43

Cartoons, 54

Connections and sequence, 59

Cultural associations, 64

Use of text and language, 73

Conclusions 79

Further reading 80

Picture credits so
Yasemin Aysan
Yasemin Aysan held senior positions at the United Nations Development Programme's Bureau for Crisis Prevention and Reduction; served as the Undersecretary-General for Disaster Response and Recovery at the International Federation of the Red Cross and Red Crescent Society
Alistair Cory
Alistair Cory is a Development Director at Al Mubarakia, London, UK
What have we learned from 40 years' experience of Disaster Shelter?
Davis, Ian
Environmental Hazards, Vol. 10 (2011), Iss. 3-4 P.193
https://doi.org/10.1080/17477891.2011.597499
[Citations: 27]
Natural hazards in the urban environment: the need for a more sustainable approach to mitigation
Degg, Martin
Geological Society, London, Engineering Geology Special Publications, Vol. 15 (1998), Iss. 1 P.329
https://doi.org/10.1144/GSL.ENG.1998.015.01.33
[Citations: 4]
The increasing exposure of cities to the effects of volcanic eruptions: a global survey
Chester, D. K.
Degg, M.
Duncan, A. M.
Guest, J. E.
Environmental Hazards, Vol. 2 (2000), Iss. 3 P.89
https://doi.org/10.3763/ehaz.2000.0214
[Citations: 15]
Earthquake Vulnerability in the Middle East
Degg, Martin
Homan, Jacqueline
Geography, Vol. 90 (2005), Iss. 1 P.54
https://doi.org/10.1080/00167487.2005.12094117
[Citations: 25]
Seismic and volcanic hazards in Peru: changing attitudes to disaster mitigation
DEGG, MARTIN R
CHESTER, DAVID K
The Geographical Journal, Vol. 171 (2005), Iss. 2 P.125
https://doi.org/10.1111/j.1475-4959.2005.00155.x
[Citations: 20]
Reflections: Resolving conflicting demands within disaster risk and recovery
Davis, Ian
Environmental Hazards, Vol. 15 (2016), Iss. 3 P.269
https://doi.org/10.1080/17477891.2016.1208075
[Citations: 2]