Book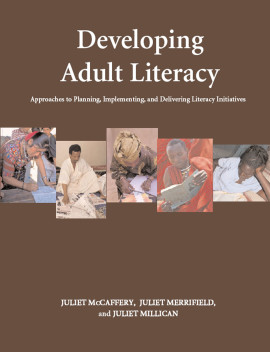 Developing Adult Literacy
Published: 2007
Pages: 304

eBook: 9780855986865
Paperback: 9780855985967
There are many different ways to manage adult literacy programmes. This book will help those who plan and develop literacy initiatives make their decisions based on an understanding of ideas, values and principles. It explains how to take into account the local context and the purposes of learners, the local community and other key stakeholders. The book addresses both theory and practice, explaining the concepts and demonstrating these using real-life examples. The first part sets out the four key concepts of literacy (as skills, tasks, social practices and critical reflection) and describes associated approaches used throughout the world. The second half covers preparation and planning, offering practical guides for each key element of literacy-programme development. Using case studies from literacy programmes in many countries including Egypt, India, Indonesia, Mali, Nigeria, the Philippines and Uganda, the authors demonstrate the importance of literacy and its power to improve lives. They also show that the role literacy plays in social and economic development is not a simple one and literacy is never a quick-fix solution.
Foreword by Professor Brian Street

PART 1 - Understanding the context:

Introduction

The international context

Mainstreaming gender

PART 2 - Understanding Literacy:

What do we mean by literacy?

Literacy as skills

Literacy as tasks

Literacy as social practice

Literacy as critical reflection

PART 3 - Understanding the Preparation Process:

Planning for literacy

The language of literacy

Monitoring and evaluating literacy programmes

PART 4 - Understanding the Learning Process:

How people learn to read and write

Approaches to curriculum

Resources for literacy

Training and supporting literacy educators

Assessing literacy learning

PART 5 - Making Sense of Adult Literacy

Conclusions

References

Index
Juliet McCaffery
Juliet McCaffery from the University of Sussex is an international consultant for the Association for Literacy and Development.
Effective literacy programmes and independent reading in African contexts
Klaas, Anthony
Trudell, Barbara
Language Matters, Vol. 42 (2011), Iss. 1 P.22
https://doi.org/10.1080/10228195.2011.569739
[Citations: 4]
Task-Based Language Learning – Insights from and for L2 Writing
Task-based language learning
Byrnes, Heidi
Manchón, Rosa M.
2014
https://doi.org/10.1075/tblt.7.01byr
[Citations: 14]
If 'one size does not fit all' when embedding adult literacy in the workplace, how can we identify 'what works'?
Zepke, Nick
Studies in Continuing Education, Vol. 33 (2011), Iss. 2 P.173
https://doi.org/10.1080/0158037X.2010.547464
[Citations: 0]
Lifelong learning and the pursuit of a vision for sustainable development in Botswana
Maruatona, Tonic
Studies in Continuing Education, Vol. 33 (2011), Iss. 2 P.121
https://doi.org/10.1080/0158037X.2010.544522
[Citations: 6]
Providing System Compliance Training to Accountants of a Global Pharmaceutical Company: The Switzerland Case
Leschinsky, Maribeth
Messemer, Jonathan E.
Adult Learning, Vol. 21 (2010), Iss. 3-4 P.13
https://doi.org/10.1177/104515951002100302
[Citations: 1]
"We also wanted to learn": Narratives of change from adults literate in African languages
Trudell, Joel
Cheffy, Ian
International Review of Education, Vol. 63 (2017), Iss. 5 P.745
https://doi.org/10.1007/s11159-017-9664-z
[Citations: 3]
Implications of local literacy practices for literacy programmes in a multilingual community in northern Cameroon
Cheffy, Ian
Compare: A Journal of Comparative and International Education, Vol. 41 (2011), Iss. 2 P.247
https://doi.org/10.1080/03057925.2011.547284
[Citations: 4]
Navigating between Māori particularism and economic universalism in adult literacy provision in Aotearoa New Zealand: the case of a Wānanga
Zepke, Nick
Discourse: Studies in the Cultural Politics of Education, Vol. 32 (2011), Iss. 3 P.431
https://doi.org/10.1080/01596306.2011.573259
[Citations: 3]
Illiteracy among adults with disabilities in the developing world: a review of the literature and a call for action
Groce, Nora Ellen
Bakhshi, Parul
International Journal of Inclusive Education, Vol. 15 (2011), Iss. 10 P.1153
https://doi.org/10.1080/13603116.2011.555068
[Citations: 14]