Book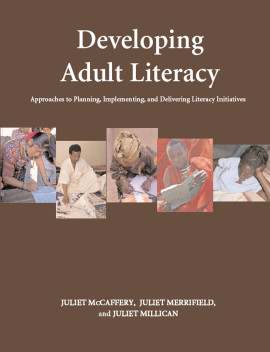 Developing Adult Literacy
Published: 2007
Pages: 304

eBook: 9780855986865
Paperback: 9780855985967
There are many different ways to manage adult literacy programmes. This book will help those who plan and develop literacy initiatives make their decisions based on an understanding of ideas, values and principles. It explains how to take into account the local context and the purposes of learners, the local community and other key stakeholders. The book addresses both theory and practice, explaining the concepts and demonstrating these using real-life examples. The first part sets out the four key concepts of literacy (as skills, tasks, social practices and critical reflection) and describes associated approaches used throughout the world. The second half covers preparation and planning, offering practical guides for each key element of literacy-programme development. Using case studies from literacy programmes in many countries including Egypt, India, Indonesia, Mali, Nigeria, the Philippines and Uganda, the authors demonstrate the importance of literacy and its power to improve lives. They also show that the role literacy plays in social and economic development is not a simple one and literacy is never a quick-fix solution.
Foreword by Professor Brian Street
PART 1 - Understanding the context:
Introduction
The international context
Mainstreaming gender
PART 2 - Understanding Literacy:
What do we mean by literacy?
Literacy as skills
Literacy as tasks
Literacy as social practice
Literacy as critical reflection
PART 3 - Understanding the Preparation Process:
Planning for literacy
The language of literacy
Monitoring and evaluating literacy programmes
PART 4 - Understanding the Learning Process:
How people learn to read and write
Approaches to curriculum
Resources for literacy
Training and supporting literacy educators
Assessing literacy learning
PART 5 - Making Sense of Adult Literacy
Conclusions
References
Index

Juliet McCaffery
Juliet McCaffery from the University of Sussex is an international consultant for the Association for Literacy and Development.