Book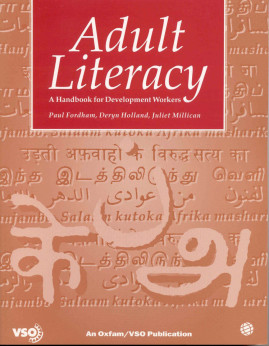 Adult Literacy
A handbook for development workers
Published: 1995
Pages: 178

eBook:
Paperback: 9780855983154
This is a book for development workers who have no formal training in adult education who have to respond - as planners, trainers or teachers - to requests for literacy skills. It sets out to deepen their understanding of literacy and its importance in the process of development and change. Using examples from many countries, the authors give practical guidance, in clear language, for all stages of literacy action from planning to assessment. Besides reading, they cover the skills involved in writing, calculating and interpreting visual images. They suggest ways of using materials that are already available and how to develop new ones designed for specific situations. Authors give practical guidance in clear language for all stages of literacy action from planning to assessment.
A note from the publishers

About the authors

Acknowledgements

Foreword

Preface: The purpose of this book

Part One: Literacy and Development

1. The case for literacy

Part Two: Planning for Literacy

2. Recognising and assessing needs

3. Looking at literacies and establishing aims

4. Getting organised:some practical issues

Part Three:Exploring Teaching and Learning

5. Some methods for teaching literacy

6. Learning numbers and reading images

7. Planning a session

8. Selecting and training literacy workers

9. Assessing progress and evaluating impact

Part Four: Materials for Literacy

10. 'Special' materials

11. 'Ordinary' materials

Part Five: Continuing with Literacy

12. Developing a literate society

Postscript

Glossary

Notes

Further reading

Index
Paul Fordham
Paul Fordham was Director of Adult Education at the Univerisity of Southampton for 18 years, and is now Honorary Professor in the International Centre for Education in Development at the University of Warwick. His publications include Learning Networks: Non-Formal Education on a Housing Estate (with Poulton and Randle), Participation, Learning, and Change; and Co-operating for Literacy
Deryn Holland
Deryn Holland is Assistant Education Officer (Staff Development), Buckinghamshire County Council. She works locally and internationally as a trainer, researcher, and writer in adult education and literacy. Her publications include The Progress Profile (Adult Literacy Basic Skills Unit) and Developing Literacy and Numeracy: An intermediate Pack for Trainers (The Open University)
Literacy: An Introduction to the Ecology of Written Language (Book)
de Castell, Suzanne
Mind, Culture, and Activity, Vol. 3 (1996), Iss. 3 P.213
https://doi.org/10.1207/s15327884mca0303_6
[Citations: 0]
Positive Psychology Perspectives on Foreign Language Learning and Teaching
How to Test for the Best: Implementing Positive Psychology in Foreign Language Testing
Kusiak-Pisowacka, Monika
2016
https://doi.org/10.1007/978-3-319-32954-3_16
[Citations: 0]
Finding a curriculum that works under trees: Literacy and health education for adolescent girls in rural Malawi
Hogg, Angela
Makwiza, Berlina
Mlanga, Stella
Broadhead, Robin
Brabin, Loretta
Development in Practice, Vol. 15 (2005), Iss. 5 P.655
https://doi.org/10.1080/09614520500128844
[Citations: 1]
UMKhize, local hero, framed: A picture story for beginner adult readers in south Africa
Land, Sandra
Buthelezi, Zanele
Language Matters, Vol. 35 (2004), Iss. 2 P.428
https://doi.org/10.1080/10228190408566227
[Citations: 0]
Factors Affecting the Use of Andragogical Principles in Adult Education Programmes
Bakare, T. V.
The Oriental Anthropologist: A Bi-annual International Journal of the Science of Man, Vol. 10 (2010), Iss. 1 P.105
https://doi.org/10.1177/0972558X1001000109
[Citations: 0]
New reflections on an old crisis: a case study from the 1980s
Fordham, Paul
Studies in the Education of Adults, Vol. 29 (1997), Iss. 1 P.51
https://doi.org/10.1080/02660830.1997.11730651
[Citations: 1]