Book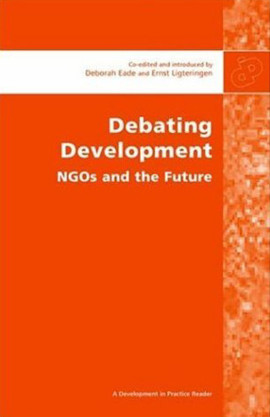 Non-government organisations working in the humanitarian and development sectors won official approval in the 1980's and 1990's but there are signs now that they are losing favour. The NGO sector stands accused by some of complacency and self-interest on the one hand and of being ineffectual and irrelevant on the other. NGOs are increasingly challenged to demonstrate their legitimacy as representative voices of civil society. NGOs themselves are taking a hard look at their mandates, their core values and their role on a changing international stage. Contributors to this volume reflect on what kind of development will eradicate poverty and what types of agency are best suited to the task. Leading representatives of NGOs, development think-tanks and civil-society organisations, as well as scholars and activists, ask: What model of international co-operation can deliver social and economic justice? And what does this mean for NGOs in the future?
* "Development in Practice," Oxfam International, and "Debating Development"

* Contributors

* NGOs and the Future: Taking Stock, Shaping Debates, Changing Practice

Deborah Eade and Ernst Ligteringen.

* Good News! You May be Out of a Job:Reflections on the Past and Future 50 Years for Northern NGOs

Alison Van Rooy.

* Riding High or Nosediving:Development NGOs in the New Millenium

Rajesh Tandon

* International NGOs and the Challenge of Modernity

Brian K.Murphy.

* Globalisation, Civil Society, and the Multilateral System

Jose Antonio Alonso.

* The World Bank, Neo-liberalism, and Power: Discourse Analysis and Implications for Campaigners

Andy Storey.

* Dissonance or Dialogue: Changing Relations with the Corporate Sector

Judy Henderson.

* NGOs as Development Partners to the Corporates:Child Football-Stichers in Pakistan

David Husselbee.

* NGOs: Fragmented Dreams

Jaime Joseph A.

* Indicators of Identity: NGOs and the Strategic Imperative of Assessing Core Values

John Hailey.

* Development Agencies: Global or Solo Players?

Sylvia Borren.

* Coming top Grips with Organisational Values

Vijay Padaki

* We NGOs: A Controversial Way of Being and Acting

Candido Grzybowski

* Northern NGO Advocacy: Perceptions, Reality, and the Challenge

Ian Anderson

* Campaigning: A Fashion or the Best Way to Change the Global Agenda?

Gerd Leipold

* The International Anti-Debt Campaign: A Southern Activistmview for Activists in 'the North'... and 'the South'

Dot Keet

* Heroismand Ambiguity: NGO Advocacy in International Policy

Paul Nelson

* Dissolving the Difference Between Humanitarianism and Development: The Mixing of a Rights-Based Solution

Hugo Slim

* Aid: A Mixed Blessing

Mary B. Anderson

* The Local Capacities for Peace Project: The Sudan Experience

Abikok Riak

* NGOs, Disasters, and Advocacy: Caught Between the Prophet and the Shepherd Boy

Alan Whaites

* Capacity Building: Shifting the Paradigms of Practice

Allan Kaplan

* Gendering the Milennium: Globalising Women

Haleh Afshar

* Gender in Development: A Long Haul - but we're Getting There!

Josefina Stubbs

* Impact Assessment: Seeing the Wood and the Trees

Chris Roche

* Does Matson Matter? Assessing the Impact of a UK Neighbourhood Project

Stan Thekaekara

* Annotated Bibliography

* Addresses of Publishers and Other Organisations
Deborah Eade
Deborah Eade was Editor-in-Chief of Development in Practice from 1991 to 2010, prior to which she worked for 10 years in Latin America. She is now an independent writer on development and humanitarian issues, based near Geneva.
Collaborative research as an anti-poverty tool: a research partnership between police and indigenous Australians
Eversole, Robyn
Routh, Richard
Development in Practice, Vol. 15 (2005), Iss. 5 P.631
https://doi.org/10.1080/09614520500128661
[Citations: 9]
NGOs, Pluralism and Advisory Services—Timor Leste
Kelly, Max
The Journal of Agricultural Education and Extension, Vol. 19 (2013), Iss. 2 P.167
https://doi.org/10.1080/1389224X.2012.741527
[Citations: 4]
International Development Governance
Nongovernmental Organizations, Governance and the Development Project
Feldman, Shelley
2005
https://doi.org/10.1201/b15747.ch24
[Citations: 0]
Neo-imperialism in solidarity organisations' public discourses: collective action frames, resources and audiences
Nulman, Eugene
Third World Quarterly, Vol. 38 (2017), Iss. 11 P.2464
https://doi.org/10.1080/01436597.2017.1368011
[Citations: 0]
The Role of Normative CSR-Promoting Institutions in Stimulating CSR Disclosures in Developing Countries
Ali, Waris
Frynas, Jedrzej George
Corporate Social Responsibility and Environmental Management, Vol. 25 (2018), Iss. 4 P.373
https://doi.org/10.1002/csr.1466
[Citations: 43]
Building civil society through partnership: lessons from a case study of the Christian Reformed World Relief Committee
Hoksbergen *, Roland
Development in Practice, Vol. 15 (2005), Iss. 1 P.16
https://doi.org/10.1080/0961452052000321541
[Citations: 20]
New forms of environmental governance? A case study of Costa Rican environmental NGOs
Tahkokallio, Laura
Nygren, Anja
Development in Practice, Vol. 18 (2008), Iss. 3 P.345
https://doi.org/10.1080/09614520802030391
[Citations: 5]
The Geography of Volunteer Tourism: Place Matters
Keese, James R.
Tourism Geographies, Vol. 13 (2011), Iss. 2 P.257
https://doi.org/10.1080/14616688.2011.567293
[Citations: 46]