Book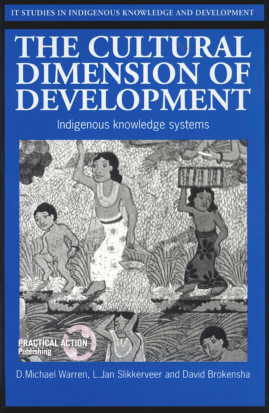 Presents overwhelming evidence, from a range of disciplines, that local people do know a great deal about their environment. This knowledge must be taken into account in the planning and implementation of development to be both acceptable and effective. Forty-six contributions from anthropologists, sociologists, geographers and agricultural scientists (among others) in academia and international organisations provide both case study material and general conceptual papers. The interdisciplinary approach of this book makes it an essential tool for those studying indigenous knowledge systems (Published in the Indigenous Knowledge and Development Series).
List of abbreviations x

Dedication xii

Acknowledgments xii

Preface xiii

ROBERT CHAMBERS AND PAUL RICHARDS

Introduction xv

THE EDITORS

PART I INDIGENOUS KNOWLEDGE SYSTEMS

1. Ethnobotanical Knowledge Systems - A resource for

meeting rural development goals 1

JANISB. ALCORN

2. Taman Obat Keluarga (TOGA): Indigenous Indonesian

medicine for self-reliance 13

L. JAN SLIKKERVEER AND MADY K.L. SLIKKERVEER

3. Neem in Niger: A new context for a system of indigenous

knowledge 35

EDWARD B. RADCLIFFE, GREGOIRE OUEDRAOGO,

SONIA E. PATTEN, DAVID W. RAGSDALE AND PETER P. STRZOK

4. The Lari Soils Project in Peru - A methodology for

combining cognitive and behavioural research 71

DAVID W. GUILLET, LOU ANN A FURBEE, JON SAN DOR AND

ROBERT BENFER

5. Indigenous Soil Classification Systems in Northern Zambia 82

CAROL KERVEN, HILDE DOLVA AND RAGNHILD RENNA

6. Indigenous Knowledge Systems and Agroforestry Projects

in the Central Hills of Nepal 88

ERIC P. RUSTEN AND MICHAEL A. GOLD

7. Indigenous Communication and Indigenous Knowledge 112

PAUL A. MUNDYANDJ. LIN COMPTON

8. Incorporating Farmers' Knowledge in International Rice

Research 124

SAM FUJISAKA

PART II INDIGENOUS DECISION-MAKING SYSTEMS

9. Raised Beds and Plant Disease Management 140

H. DAVID THURSTON AND JOANNE M. PARKER

10. Indigenous Knowledge and Famine Relief in the Horn

of Africa 147

PETER J.C. WALKER

vi The cultural dimension of development

11. Indigenous Decision-making in Agriculture - A reflection

of gender and socioeconomic status in the Philippines 155

VIRGINIA D. NAZAREA-SANDOVAL

12. Forest Gardens of Highland Sri Lanka - An indigenous

system for reclaiming deforested land 174

YVONNE EVERETT

13. Indigenous Decision-making Systems - A key in

understanding structural change in American agriculture 185

ROBERTZABAWA AND CHRISTINA H. CLADWIN

14. Indigenous Taxonomies and Decisioiwnaking Systems of

Rice Farmers in South India 202

BHAKTHAVATSALAM RAJASEKARAN AND D. MICHAEL WARREN

15. Expert Systems for Indigenous Knowledge in Crop Varietal

Selection 211

SURESH CHANDRA BABU, D. MICHAEL WARREN AND

BHAKTHAVATSALAM RAJASEKARAN

16. Como Se Cura: Patterns of medical choice among working

class families in the city of Oaxaca, Mexico 218

MICHAEL B. WHITEFORD

PART III INDIGENOUS ORGANISATIONS

17. Local Traditions and Community Forestry Management:

A view from Nepal 231

DONALD A. MESSERSCHMIDT

18. Indigenous Systems of Natural Resource Management

among Pastoralists of Arid and Semi-arid Africa 245

MARYAM NIAMIR

19. A Socioecological Analysis of Balinese Water Temples 258

/. STEPHEN LANSING AND JAMES N. KREMER

20. Kpelle Farming through Kpelle Eyes 269

JOHN GAY

21. Use of Local Knowledge in Managing the Niger River

Fisheries Project 286

THOMAS L. PRICE

PART IV INDIGENOUS EXPERIMENTATION AND

INNOVATIONS

22. Farmers Who Experiment: An untapped resource for

agricultural research and development 296

ROBERTRHOADES AND ANTHONY BEBBINGTON

Contents vii

23. Phytopractices: Indigenous horticultural approaches to

plant cultivation and improvement in tropical regions 308

YILDIZ AUMEERUDDY

24. Farmer Know-how and Communication for Technology

Transfer: CTTA in Niger 323

CONSTANCE M. McCORKLE AND GAIL McCLURE

25. A Trans-local Adaptation of Indigenous Knowledge in

Duck Farming in Indonesia 333

PATRICIA J. VON DAL

26. Tinker, Tiller, Technical Change: Peoples' technology and

innovation off the farm 340

MATTHEW GAMSER AND HELEN APPLETON

27. Using Indigenous Knowledge Systems in the Design of

On-farm Experiments - A Philippine case 348

CLIVE LIGHTFOOT

28. Taking Farmers' Knowledge and Technology Seriously:

Upland rice production in the Philippines 354

SAM FUJISAKA

29. Indigenous Soil and Water Conservation in Djenne, Mali 371

ALISON AYERS

30. Using Indigenous Knowledge in a Subsistence Society

of Sudan 385

ROGER W. SHARLAND

31. Kpelle Steelmaking: An indigenous high technology

in Liberia 396

GORDON C. THOMASSON

32. Survival under Stress: Socioecological perspectives on

farmers' innovations and risk adjustments 407

ANIL K. GUPTA

33. Transfer of Indigenous Knowledge and Protection of the

Agricultural Environment in Eastern Africa 419

KEESJ. STIGTER

PART V INTERNATIONAL INSTITUTIONS AND

INDIGENOUS KNOWLEDGE

34. CIKARD: A global approach to documenting indigenous

knowledge for development 426

D. MICHAEL WARREN AND GERARD McKlERNAN

35. LEAD: The Leiden Ethnosystems and Development

Programme 435

L. JANSLIKKERVEER AND WIM H.J.C. DECHERING

viii The cultural dimension of development

36. CIRAN: Networking for indigenous knowledge 441

GUUS W. VON LIEBENSTEIN, L. JANSLIKKERVEER AND

D. MICHAEL WARREN

37. IUCN and Indigenous Peoples: How to promote

sustainable development 445

JEFFREY A. McNEELY

38. International Institute for Environment and Development

(IIED) and Rapid Rural Appraisal for Indigenous

Sustainable Agriculture 451

JENNIFER McCRACKEN

39. Agricultural Development with a Focus on Local

Resources: ILEIA's view on indigenous knowledge 454

BERTUSHAVERKORT

40. The Latin American Consortium on Agroecology and

Development (CLADES) - Fostering rural development

based on indigenous knowledge 458

MIGUEL A. ALTIERIAND ANDRES YURJEVIC

41. Traditional Ecological Knowledge and UNESCO's Man

and the Biosphere (MAB) Programme 464

MALCOLM HAD LEY AND KATHRIN SCHRECKENBERG

42. Sustainable Development and Indigenous Knowledge

Systems in Nigeria: The role of the Nigerian Institute of

Social and Economic Research (NISER) 475

ADEDOTUN O. PHILLIPS AND S. OGUNTUNJI TITILOLA

43. The Regional Program for the Promotion of Indigenous

Knowledge in Asia (REPPIKA) 479

JUAN M. FLA VIER, ANTONIO DE JESUS AND CONRADO S. NA VARRO

PART VI BIBLIOGRAPHICAL ESSAYS ON INDIGENOUS

KNOWLEDGE SYSTEMS

44. Ethnoveterinary Medicine and Development - A review

of the literature 488

EVELYNMATHIAS-MUNDYAND CONSTANCEM. McCORKLE

45. Indigenous Knowledge as Reflected in Agriculture and

Rural Development 499

S. OGUNTUNJI TIT/LOLA AND DAVID MARSDEN

46. From Ecology through Economics to Ethnoscience:

Changing perceptions on natural resource management 505

OLIVIA N. MUCHENA AND ERIC VANEK

47. INDAKS: A bibliography and database on indigenous

agricultural knowledge systems and sustainable

development in the tropics 512

L. JAN SLIKKERVEER

Bibliography 517

Index 579
D Michael Warren
Professor Dennis Michael Warren was an anthropologist and leading Africanist scholar who taught at Iowa State University from 1972 to1997. Professor Warren was especially interested in indigenous knowledge and rural development in Africa. His interest in indigenous knowledge led him to the study of art, culture, the rural economy and traditional healing in Ghana and Nigeria and to comparative studies of other societies.
David W. Brokensha
David W. Brokensha is Professor Emeritus of Anthropology and Environmental Studies at the University of California, Santa Barbara, USA.