Book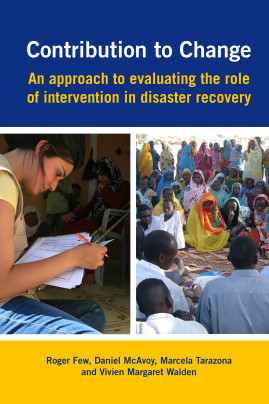 As the number of people affected by disasters has risen, so have the expectations placed on humanitarian agencies by donors, the public and the affected populations themselves. Agencies must now provide evidence of impact of their interventions. But applying conventional evaluation methods can pose problems. How can we assess the difference that intervention makes? Is it ethical to consign some disaster-affected communities to control groups? How feasible is it to collect baseline data among people who have just been traumatized? This guide provides a reliable and practical method for identifying the contribution an agency makes to changes to people's lives in the recovery period following disasters.
It outlines 11 steps that take evaluators through designing quantitative and qualitative methods through to collecting field data and developing a narrative of evidence and change.
Prelims (Contents Notes on the contributors Foreword Acknowledgements)

Introduction

Part One

The approach

Emphasis on evaluating 'contribution'

Other defining elements of the methodology

Planning and management

Part Two

Data collection tools and methods

Overall design

Step 1: Preliminary investigation

Step 2: Quantitative methods design: household and community surveys

Step 3: Qualitative methods design: semi-structured interviews and group work

Step 4: Preparing to work with communities

Step 5: Sampling

Step 6: Field data collection

Part Three

Step 7: Preliminary analysis of quantitative data

Step 8: Preliminary analysis of qualitative data

Step 9: Developing a narrative of evidence and change

Step 10: Conclusions: Contribution to Change

Step 11: Finalization and use of the report

Back Matter (Glossary References and further resources Annexes)
Roger Few
Roger Few is a Senior Research Fellow at the University of East Anglia.
Daniel McAvoy
Daniel McAvoy is a Lecturer at the University of East Anglia.
Marcela Tarazona
Marcela Tarazona is a Senior Consultant at Oxford Policy Management.
Vivien Margaret Walden
Vivien Walden is the global humanitarian monitoring, evaluation and learning adviser for Oxfam GB. She is currently piloting a methodology for measuring change in the lives of affected communities after a disaster response. Vivien holds a PhD from the University of Manchester in evaluation of behaviour change, with HIV in Zimbabwe as the area of research.
Building Resilience through Collective Engagement
Esteban, Theresa Audrey O.
Architecture_MPS, Vol. 17 (2020), Iss. 1
https://doi.org/10.14324/111.444.amps.2020v17i1.001
[Citations: 1]
Can rigorous impact evaluations improve humanitarian assistance?
Puri, Jyotsna
Aladysheva, Anastasia
Iversen, Vegard
Ghorpade, Yashodhan
Brück, Tilman
Journal of Development Effectiveness, Vol. 9 (2017), Iss. 4 P.519
https://doi.org/10.1080/19439342.2017.1388267
[Citations: 28]
Implementing area-based approaches (ABAs) in urban post-disaster contexts
Sanderson, David
Environment and Urbanization, Vol. 29 (2017), Iss. 2 P.349
https://doi.org/10.1177/0956247817717422
[Citations: 8]