Book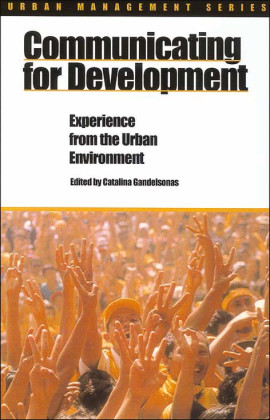 Communicating for Development
Experience from the urban environment
Series: Urban Management Series
Published: 2002
Pages: 296

eBook: 9781780441054
Paperback: 9781853395420
Much research on urban development is supply-led - generated by the interests of donors and researchers in the North rather than the needs of poor households in the growing cities of the South, Communicating for Development focuses attention on the most fundamental of questions about development: how can the lessons of good practice and innovation and the results of research benefit the poor? The book offers in-depth discussion about how the communication process works - or doesn't work. It questions and challenges: who are the stakeholders; what are the best vehicles for transferring knowledge; why are local networks and intermediaries so important; what can hinder the communication process; and how may these gaps and barriers be overcome? Moreover, the book challenges traditional participatory methods of relating to the needs of poor urban communities and proposes instead the application of new communication and knowledge management methods currently used in business management. The contributors examine communication from a variety of perspectives, offering critical analysis and new ideas in relation to communication methods.
Foreword

The Urban Management Series

Acknowledgements

Introduction

Catalina Gandelsonas

PART I Theoretical issues

1. Communicating urban research knowledge in international development cooperation

Tony Lloyd-Jones

2. Modelling demand in order to meet it: can the information and knowledge management systems of the urban poor be understood and strengthened?

Lucky Lowe

3. The hi-tech gift economy

Richard Barbrook

4. The role of communication in urban communities

Norma V. Madrid

5. Facilitating information dissemination and exchange through formal and informal networking

Otto Ruskulis

6. Cultural differences and legibility

Nabeel Hamdi with drawing and captions by Ripin Kalra

7. Communicating desire

Robert Brown

8. Barriers and gaps in the communication process

Catalina Gandelsonas with drawings by Bill Erickson

9. Improving communication in Amazonia: examining environmental imagery of Amazonian indigenous life

Kathleen Richardson

10. Making differences: cities, NGOs and the cultural politics of development discourse

Carl O'Coill

PART II Case studies

11. Broadcast for change: a Hands On approach to the delivery of empowering information to a global audience

Janet Boston

12. National and regional Internet-based research networks: lessons from the UK and Central America

Harry Smith and Paul Jenkins

13. Electronic conferencing: the learning curve

Mansoor Ali and Darren Saywell

14. Putting over the message: a programme in Pakistan to build capacity among industrialists for pollution abatement

Rizwan Hameed and Jeremy Raemaekers

15. Keeping ideas alive: communicating building for safety in Bangladesh

Iftekhar Ahmed and Matthew Carter

16. Communication in HIV/AIDS prevention: a case study from Vietnam

Toyoko Kodama and Le Thi Minh Chau

17. Knowledge transfer in a democratic context

Pachampet Sundaram

18. Conclusions

Catalina Gandelsonas

List of contributors

References

Notes

Index
Catalina Gandelsonas Catalina Gandelsonas is a Senior Research Coordinator at Max Lock Centre and teaches BA and MA urban design courses at the School of the Built Environment, University of Westminster. As a professional architect,planner and urban designer she has worked as a consultant for a variety of local authorities in the USA and Spain.