Book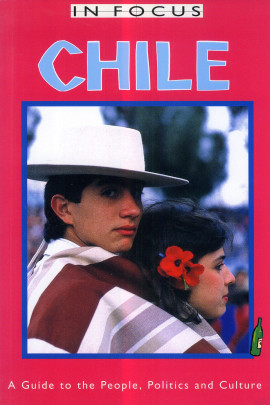 Chile In Focus
A Guide to the People, Politics and Culture
Series: Latin America In Focus
Published: 1998
Pages: 82

eBook: 9781909013605
Paperback: 9781899365180
Once a byword for military repression and human rights abuses, Chile's image is now that of a dynamic success story. The "Chilean Miracle", based on radical free-market reform and export-led growth, has been presented as a model for all developing countries. Yet this transition has also created its own social problems, challenging the traditional values with the advent of extreme materialism. Famed for its landscapes which range from glaciers to deserts, Chile is also home to a cultural life, exemplified by writers such as Pablo Neruda and Ariel Dorfman. Music, cinema and handicrafts reflect the country's artistic diversity as well as its mixed ethnic traditions. This book is part of a series aimed at students and independent travellers.
Section Title
Page
Action
Price

Title Page

1

Copyright Page

2

Table of Contents

3

Introduction: The Cost of Success

4

1: Land and Peoples: From Desert to Fjord

6

The Great North

6

Easter Island

11

Peoples of Chile

13

Mixed Heritage

17

2: History and Politics: Democrats and Dictators

19

Power Struggles

22

Popular Unity

25

Pinochet's Chile

29

Return to Democracy

37

3: The Economy: Latin America's Miracle?

40

Diversification

43

The Neo-Liberal Revolution

47

Chile's New Generation

50

New Markets

52

4: Society: Consuming Passions

53

Crisis of Trust

53

The Military

55

Rich and Poor

58

Women

60

5: Culture: Land of Poets

64

Neruda and Poetry

64

Commitment and Exile

66

Cinema and Media

68

Where to Go, What to See

71

Tips for Travelers

75

Addresses and Contacts

77

Further Reading and Bookstores

78

Facts and Figures

79
Nick Caistor is a British writer and translator who has visited Mexico regularly for more than 40 years. A former BBC Latin America analyst, he has written books on the history and culture of Mexico City, and the Meixcan poet Octavio Paz.