Book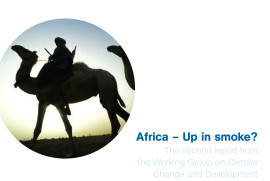 Africa - Up in Smoke?
Published: 2005
Pages: 60

eBook: 9780855986520
Copies of the Original 2005 Report and the 2006 Update Report from the Working Group on Climate Change and Development. This Report finds that concerns about the effects of climate change on rural African societies are more than justified. Climate change is happening, and it is affecting livelihoods that depend on the natural environment, which, in Africa, means nearly everyone. However, even without adequate support, far from being passive victims, people recognise even small changes in climate, and are taking steps to respond to them.
Foreword 1

Introduction, summary and recommendations 2

Food, farming and the environment 6

Water, drought and the changing rains 13

Health 18

Energy 20

Disasters 25

Gender 29

Migration 30

Conflict 32

Official development policy and climate change 34

Endnotes 37
Andrew Simms
Andrew Simms founded the climate change, energy and interdependence programmes at NEF(the new economics foundation), and is author of Ecological Debt: Global Warming and the Wealth of Nations (2009). He writes regularly for the national press and is on the boards of Greenpeace UK, the climate campaign 10:10 and The Energy and Resources Institute Europe. He worked for many years for international development organisations, writing extensively on issues of climate change and poverty reduction.