Book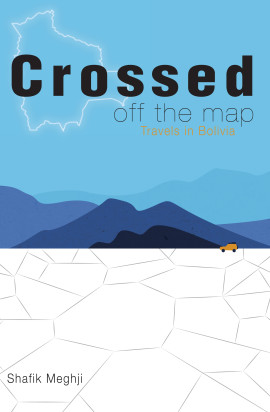 Crossed Off the Map
Travels in Bolivia
Published: 2022
Pages: 182

eBook: 9781909014275
Paperback: 9781909014251
Blending travel writing, history and reportage, Crossed off the Map: Travels in Bolivia journeys from the Andes to the Amazon to explore Bolivia's turbulent past and contemporary challenges. It tells the story of the country's profound and unexpected influence on the wider world over the last 500 years – fragments of history largely forgotten beyond its borders. Once home to one of the wealthiest cities on Earth, Bolivia kickstarted globalisation, helped to power Europe's economic growth and trigger dynastic collapse in China, and played host to everyone from Che Guevara to Butch Cassidy.
The book also explores how ordinary Bolivians in and around the world's highest city, largest salt flat, richest silver mine and most biodiverse national park are coping with some of the touchstone issues of the 21st century: the climate emergency, populism, mass migration, indigenous rights, national identity, rapid urbanisation, and the 'war on drugs'.
In its pages, award-winning journalist and travel writer Shafik Meghji illuminates the dramatic landscapes, distinct cultures and diverse peoples of a country that – in the words of one interviewee – 'was the building block of the modern world, but is now lost in time'.
1. Bolivia does not exist

2. Before Bolivia: Indigenous cultures (Llanos de Moxos, Tiwanaku and Lake Titicaca)

3. The mountain that eats men: Silver, colonialism and globalisation (Potosí)

4. Tin kings and rubber barons: Tin, rubber and tycoons (Oruro, Cochabamba and Trinidad)

5. Flat white: Lithium and salt (Salar de Uyuni and the Reserva Nacional de Fauna Andina Eduardo Avaroa)

6. Amazon primed: Development projects, ecotourism and the climate crisis (Rurrenabaque, Parque Nacional Madidi and Lago Poopó)

7. The future is behind us: Indigenous identities, migration and urbanisation (La Paz and El Alto)

8. Mission control: The Jesuit legacy in the eastern lowlands (Santa Cruz de la Sierra and Chiquitos)

9. You triumph or you die: On the trail of Che Guevara (Samaipata, La Higuera and Vallegrande)

10. Coca si: The 'war on drugs' and the rise of Evo Morales (The Yungas, the Chapare and Cochabamba)

11. A stampede in Sucre: The past and the future (Sucre)
'Meghji skilfully unveils the layers of this complex society with candour and a warm curiosity. It makes you want to get on the next flight to Bolivia.'
Noo Saro-Wiwa, author of Looking for Transwonderland

'Shafik Meghji is a natural travel writer with a ready mastery of history, anecdote and atmosphere, and Crossed off the Map is the best sort of travel book – an informed and informative portrait of Bolivia that doubles as a vicarious journey for readers on an epic scale, through high mountains, across the altiplano and into deep tropical forests.'
Tim Hannigan, author of The Travel Writing Tribe

'A thoroughly engrossing and informative look at a clearly underappreciated part of the world. I now want to read it all again... and explore Bolivia for myself.'
Lyn Hughes, founding editor of Wanderlust

'Crossed off the Map is an amazing book. I've discovered so much more of my own country through it. It makes you realise the wonder of Bolivia.'
Sergio Mendoza, journalist for La Nube and Bloomberg News

'Following in the footsteps of everyone from Che Guevara, conquistadors and colonialists, to Inca pilgrims and even dinosaurs, Meghji is a wonderful travelling companion, bringing to life a Bolivia rarely seen in such bright and beautiful light.'
Monisha Rajesh, author of Around the World in 80 Trains
Shafik Meghji is an award-winning travel writer, journalist and author based in South London. Specialising in Latin America and South Asia, he has co-authored more than 40 guidebooks for Rough Guides and DK Eyewitness, and writes for BBC Travel, Wanderlust and Lonely Planet, among others. He is a member of the British Guild of Travel Writers and a fellow of the Royal Geographical Society.