Book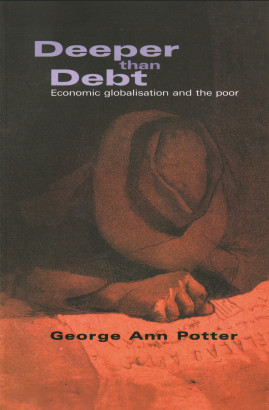 Deeper than Debt
Economic globalisation and the poor
Published: 2000
Pages: 176

eBook: 9781909014947
Paperback: 9781899365463
An introduction to the history and current implications of the debt crisis, which positions debt in the wider context of globalisation and development. Deeper than Debt brings together a wide range of viewpoints to discuss the effects of economic globalisation on the lives of the poor majority in debtor countries. This primer text argues that, due to debt, four fifths of the world's population cannot develop while inequality between the rich and the poor grows. This book provides invaluable analysis for activists who have campaigned successfully with Jubilee 2000 and other campaigns, and for those wanting a deeper look at development and economic issues raised by international debt.
Section Title
Page
Action
Price

Contents

5

Acknowledgements

9

Preface

11

Introduction

15

History of the current crisis

22

The Bretton Woods System

32

Trade and capital

54

The more we pay the more we owe

80

... the less we have

93

Environmental and political implications

114

Alternative solutions?

139

Acronyms

157

Glossary

159

Relevant web sites

164

Bibliography

168

Index

172
'A comprehensive debunking of the irrational optimism of the neoliberals and free marketeers. Situating debt in the wider context of globalisation and development, George Ann Potter provides an invaluable primer, combining her own analysis with a rich and fascinating cull of the best the internet has to offer.' DUNCAN GREEN, author of Silent Revolution
George Ann Potter is an economic anthropologist with 20 years' experience of development management and policy work. She lives and works in Bolivia.