Book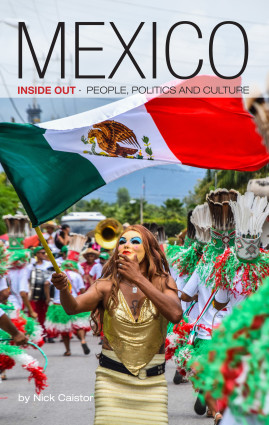 Mexico Inside Out
Published: 2021
Pages: 124

eBook: 9781788531801
Paperback: 9781788531771
Hardback: 9781788531788
Mexico is a country of upheavals: it's not only a land of volcanoes and earthquakes, but historically it has seen empires rise and fall, and revolutions bring dramatic changes to its society. This short book offers an up-to-date analysis of all aspects of life in Mexico today. It includes a look at Mexico's geography and history; its peoples, economy and cultural life; and the political problems facing the current administration, from drugs violence to severe environmental challenges. President López Obrador has promised to achieve the country's 'fourth transformation': Mexico Inside Out examines what that means and requires.

Mexico Inside Out provides an introduction to the country for student and traveller alike, all those who want to know more about the real Mexico than is found in an ordinary guidebook.
1. Introduction

2. The Land

3. History

4. Society

5. Economy

6. Culture

7. Environment

8. Violence and drugs

9. Conclusion

Food and drink

Travel basics

Mexicanismos
'The richness and complexity of Mexican history, politics and culture made extraordinarily readable without simplification. A great introduction to Mexico.'
Professor Jenny Pearce, Latin America and Caribbean Centre, London School of Economics

'A readable and deeply informed guide to contemporary Mexico, its dramas and its beauty.'
David Lehmann, Centre for Latin American Studies, Cambridge University

'Nick Caistor offers us a brilliant synthesis that, in a fluid and attractive style, takes us through the history, culture and social life of Mexicans and helps us understand the mysteries of the current political situation.'
Roger Bartha, sociologist, anthropologist, and author
Nick Caistor is a British writer and translator who has visited Mexico regularly for more than 40 years. A former BBC Latin America analyst, he has written books on the history and culture of Mexico City, and the Meixcan poet Octavio Paz.