Book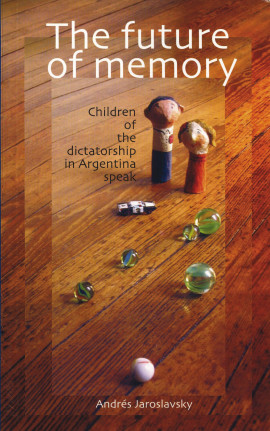 The Future of Memory
Children of the Dictatorship in Argentina Speak
Published: 2004
Pages: 250

eBook: 9781909013193
Paperback: 9781899365555
Children experience the world in vivid and indelible ways. For those who had to suffer the reality of the last Argentinian dictatorship (1976-1983), the memories of that time remain powerfully present.

The Future of Memory is made up of almost thirty testimonies, which between them provide a unique entry point into understanding those years and their legacy. Interviews with young Argentinians from all over the country are the centre of the book. These include children of parents disappeared or murdered during the last dictatorship, children of families who had to flee the country due to persecution , as well as children whose parents were imprisoned and those children stolen by repressors. Woven throughout these are documentary sources and judicial procedures relating to their testimony, including historical notes to the political context of the dictatorship. By bringing together the past, the present and the time which has elapsed in between, Jaroslavsky conveys the ways in which memories shape our existence and understanding.
Introduction I 1

1 The dictatorship fan club I 5

RAMIRO AND MARTIN FRESNEDA

2 Cynicism I 15

ANA PAOLETTI

3 Thou shalt not kill I 26

WALTER MEZA NIELLA

4 The arrogance of firepower I 36

MARIA LAVALLE

5 The Argentinian Inquisition I 4 7

PABLO BALUSTRA

6 Slavery the American way I 53

LUIS AVILA

7 The sword and the cross I 58

MARTIN EZPELETA JR

8 Divine justice I 65

PABLO ERNESTO Dl VITO

9 Modernity I 71

AGUSTIN Dl TOFFINO

10 Subversion in the education system

(Getting to know our enemy) I 78

SANTIAGO DEL VALLE

11 National symbols I 85

MATIAS FACUNDO MORENO

12 Bombardment in Tucuman I 94

DAFNE ZAMUDIO

l3 Christian, Western ... (and white) I 100

JIMENA VICARIO

14 The Name ofthe Rose I 107

ERNESTO ANDREANI

15 Incredible as it may seem I 113

MARIA JULIA CORIA

16 Moral curriculum I 118

VERONICA CASTELLI

17 Five centuries later, nothing's changed I 123

MARIA CORONEL

18 Dictatorship and propaganda I 128

DEBORA VILLANUEVA

19 The World Cup, 1978 I 138

ALBA CAMARGO

20 Sincericide I 14 3

MARIANA EVA TELLO

21 Old friends I 150

EDUARDO NACHMAN

22 Metamorphosis I 157

JOSEFINA GIGLIO

23 Downhill I 165

NAZARENO BRAVO

24 Iceberg ahead I 172

MIGUEL CEBALLOS

25 The Rattenbach Report I 185

CAROLINA GHIGLIAZZA

26 Amnesty or amnesia or both I 195

DIEGO REYNAGA

2 7 The plague I 208

VICTORIA OLIVENCIA

28 Who, me? I 214

MARIANA EVA PEREZ

Historical Notes- by Alejandro Andreassi I 225

Glossary I 232

Bibliography I 234
"These testimonies are to be welcomed. They show what the eyes of some women and men saw when they survived the extermination of their parents. Those eyes were young when the horror took place and now they help us to see."
Eduardo Galeano
Andres Jaroslavsky has worked with a number of human rights organisations in Argentina; his father was disappeared in 1975. At the time of writing he lived in York , England, where he was a music teacher.
The Memory of State Terrorism in the Southern Cone
The Traces of "Postmemory" in Second-Generation Chilean and Argentinean Identities
Serpente, Alejandra
2011
https://doi.org/10.1057/9780230118621_7
[Citations: 10]