Book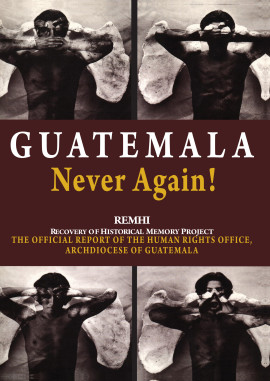 Guatemala Never Again!
The Official Report of the Human Rights Office, Archdiocese of Guatemala
Published: 2000
Pages: 374

eBook: 9781899365838
Paperback: 9781899365449
Available for the first time in English, this document presents the testimonies of the victims of Guatemala's 36 year long war. When Bishop Juan Gerardi, responsible for the Human Rights Office of the Archdiocese of Guatemala (ODHAG), released this study of human rights abuses in his country on April 24, 1998, he was murdered two days later. The ODHAG has since accused members of the Armed Forces of being responsible for the crime. This is the report of the Recovery of Historic Memory Project of Catholic Church. The 6500 personal testimonies which are the basis of the report were collected by 600 specially trained volunteers, and accounted for over 55,000 victims of the estimated 150,000 dead and disappeared during the conflict. Two thirds of the testimonies were collected in different Mayan languages. Twenty five per cent of the victims were children. Three quarters of all victims were indigenous. 422 massacres are documented. Responsiblity of 79.3 per cent of violence was identified as falling to the Army while the guerrillas account for 9.3 per cent of the violence recounted.
FOREWORD TO THE ENGLISH EDITION by Thomas Quigley

INTRODUCTION

GLOSSARY: ACRONYMS, ABBREVIATIONS, ORGANIZATIONS, AND SPANISH WORDS

PART ONE

THE IMPACT OF THE VIOLENCE

1. INDIVIDUAL EFFECTS OF THE VIOLENCE

2. DESTROYING THE SEED

3. THE ASSAULT ON COMMUNITY

4. COPING WITH VIOLENCE

5. FROM VIOLENCE TO THE AFFIRMATION OF WOMEN

6. NEVER AGAIN! PREVENTING A RECURRENCE

PART TWO

THE METHODOLOGY OF HORROR

7. THE INTELLIGENCE BEHIND THE VIOLENCE

8. TARGETING THE PEOPLE

9. THE METHODOLOGY OF HORROR

CONCLUSIONS. FROM THE MEMORY OF ATROCITIES TO THE VIOLENCE OF TODAY

PART THREE

THE HISTORICAL CONTEXT

10. BACKGROUND

11. THE ARMED CONFLICT IN THE SIXTIES

12. THE MILITARY GOVERNMENTS OF THE SEVENTIES

14. THE MEJIA VICTORES GOVERNMENT

15. THE CEREZO GOVERNMENT

16. THE SERRANO ELIAS GOVERNMENT

17. PREPARING FOR THE POSTWAR PERIOD

PART FOUR

THE VICTIMS OF THE CONFLICT

18. THE DATA COMPILED BY THE REMHI PROJECT

19. GENERAL STATISTICS

BIBLIOGRAPHY