Book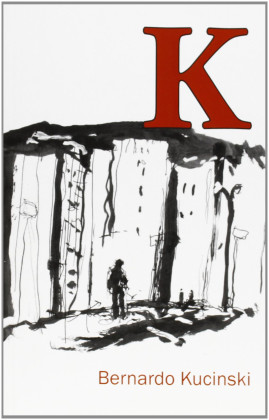 K
Published: 2013
Pages: 192

eBook: 9781909013520
Paperback: 9781899365777
Hardback: 9781909014077
A remarkable novel written by the Brazilian journalist Bernardo Kucinski. K is the story of a father who searches desperately for his daughter, 'disappeared' during the military dictatorship in Brazil. The father is himself a refugee from Poland in the 1930s. He is racked by feelings of guilt—that because he was immersed in his Yiddish writing and scholarship, he did not really know his daughter or the danger that threatened her. The novel is based on a true story – the disappearance of Kucinski's younger sister in 1973. As the author says, 'Everything in this book is invented but almost everything happened'.
The first Brazilian edition sold out in a few weeks, and the novel has been shortlisted for literary awards in Brazil and Portugal. Most recently it has been short-listed for the IMPAC Dublin Literary Award 2015.

Foreword to the English edition Jan Rocha

Acknowledgements

Letters to someone who doesn't exist

The vortex

The trap

The informers

Her first pair of glasses

The clandestine marriage

Letter to a friend

Books and revolution

Jacobo

The dog

The day the Earth stood still

Psychological warfare

The matzeiva

Left in the lurch

Immunity, a paradox

Two reports

A nightmare

Passion

Memories, an inventory

Therapy

Giving up literature

The army almanac

The extortionists

The Council meeting

Streets and names

Survivors, an afterthought

The meeting at the barracks

Message to comrade Klemente

Postscript

To the reader
'A riveting novel and an important historical document... Always gripping'
Richard Gott

'This important and powerful novel ... lyrically translated from the Portuguese. Highly recommended'
Lindsey Hilsum

' ... a substantial literary work '
Hamilton Pereira (Pedro Tierra)

'Few tales have left such an impression on me, both for the tragic force of the narrative and for the feeling of revolt that it arouses'
J. Guinsburg

'I couldn 't stop reading from the first page to the last'
Gilberto Maringoni

'A masterpiece ... unique'
Alipio Freire

'A remarkable book! One of the best accounts, perhaps the very best, written on the theme of the disappeared'
Vladimir Sachetta

Bernardo Kucinski
Bernardo Kucinski is a Brazilian journalist and political scientist, professor at the University of São Paulo.
Sue Branford Sue Branford reports from Latin America for the BBC and The Guardian.