Book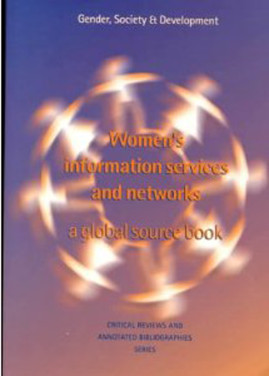 Women's Information Services and Networks
A global sourcebook
Series: Gender, Society & Development
Published: 1999
Pages: 160

Paperback: 9780855984250
An accessible and critical guide to the many resource and information centres working around the world to strengthen the position of women in society. It offers a global overview with a focus on the impact of the new information technologies; regional chapters on Africa, Asia and the Pacific and Central and Eastern Europe and the former USSR; a critical directory of information services which describes (with full contact details) the work and focus of more than 160 centres; a 75-entry annotated bibliography and an extensive list of Web sites.
Acknowledgements

Preface

Acronyms

Introduction: womens information and networks

Women's information centres and networks: a global perspective

Minke Valk, Henk van Dam and Sarah Cummings

Celebrating the power, diversity and strength of African Women's networks

Jennifer Radloff

Weaving webs of unity: the experience of Asia and the Pacific

Chat Garcia

Looking for a sister: women's groups and networking in Central and Easter Europe and the Newly Independent States

Delina Fico

Directory of information centres

Guide to the directory of information centres

Geographical index

Alphabetical index of organisations

Bibliography

Guide to the bibliography

Author index

Geographical index

Web resources

About the authors.
Sarah Cummings
Sarah Cummings is Senior Consultant at CDC. Sarah is a founder editor and co-Chief Editor of the open access, peer reviewed Knowledge Management for Development Journal. She is a member of the Advisory Board of Hivos and of the Editorial Board of the journal, Development in Practice.