Book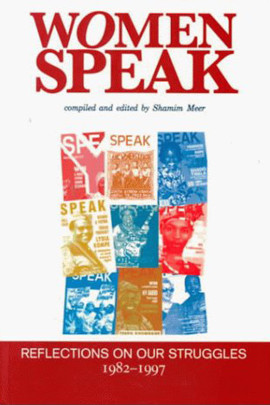 Women Speak
Published: 1999
Pages: 168

Paperback: 9780855984168
A record of the setbacks and victories of South African women from early local community-level organisation in 1982 up to the challenges of living in the 1990s and being in government in the new South Africa. This book brings together the voices of a variety of women on some of the critical issues of the times: women organising in their own communities, in trade unions and in political organisations, violence against women and personal struggles regarding relationships, lobola, lesbianism and abortion. The final chapter focuses on women in negotiations and in government. The articles are all taken from the South African community magazineSpeak; and gives a sense of what concerned women most acutely during the 1980s and early 1990s. Through most recent interviews, conducted in 1996 and 1997, the debates are brought up to date.
Forward

Introduction

Chapter one: Women in Communities

From the Pages of SPEAK: Women organise in their local communities

Rural Women's Movement

Women and Political Violence in Communities

Struggles Today

Say No -Gcina Mhlope

The Dancer - Gcina Mhlope

Chapter two: Women Workers

From the Pages of SPEAK: Women at Work

Women on Strike

Domestic Workers

Workers are Parents Too!

Women in FOSATU and COSATU

Sruggles Today

Madam - Roseline Naapo

Chapter three: Fighting Violence against women

From the Pages of SPEAK

Struggles Today

You Can't Stop the Spirit

Chapter four: The personal is political

From the Pages of SPEAK

A Woman's Right to Choose

Women and Fear - Paulinah PhungwayoA Lady of Leisure - Ayesha Badat

Chapter five: Women in Political Resistance

From the Pages of SPEAK

Heroes of the Struggle

Today -Nise Malange

Chapter six: Women in negotiations, Government and Civil society

From the Pages of SPEAK: Women Make Their Voices Heard in the Negotiations

Women in the New South Africa

Struggles Today

Women of Africa - Sma Khubeka

Abbreviations.