Book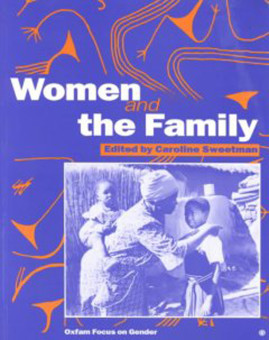 Women and the Family
Published: 1996
Pages: 64

eBook: 9780855988760
Paperback: 9780855983529
Looking at factors as diverse as the pervasiveness of patriarchy, changing family forms, female infanticide, and land reform policies, this collection of articles considers the family from a gender perspective, and how the socially prescribed roles of men and women within the family can constrain women's opportunities. We need to understand the underlying power structures and expectations which, operate in particular family forms within target communities, if development initiatives and family-support policies are to benefit women.
Editorial

Caroline Sweetman

Avoice of alarm: a historian's view of the family

Anna Arroba

Patriarchy and development in the Arab world

Suad Joseph

Fighting female infanticide by working with midwives: an Indian case study

Ranjani K Murthy

Female-headed families; a comparative perspective of the Caribbean and the developed world

Shelia Stuart

Structures and processes: land, families, and gender relations

susie Jacobs

Women, the law, and the family in Tunisia

Hafidha Chekir

Marginalisation and gay families in Latin America and the Caribbean

Dinnys Luciano Ferdinand

Child-care and the benefits trap: a case from the UK

Annie Oliver

Interview: Maria Isabal Plata of PROFAMILIA

Resources

Book review: Kampala Women Getting By: Well-Being in the Time of AIDS by Sandra Wallman et al

Ambreena S Manji

Further reading

NGOs and UN organisations

Audio-visual resources.
Caroline Sweetman
Caroline Sweetman is Editor of the international journal Gender & Development and works for Oxfam GB.
Women's Vulnerabilities, Women's Voices: Narratives on Patriarchies and Domestic Violence in Assam
Mahjebeen, Joanna
ANTYAJAA: Indian Journal of Women and Social Change, Vol. 2 (2017), Iss. 2 P.166
https://doi.org/10.1177/2455632717737440
[Citations: 1]
Gender Roles and Informal Care for Patients With AIDS
Tarimo, Edith A. M.
Kohi, Thecla W.
Outwater, Anne
Blystad, Astrid
Journal of Transcultural Nursing, Vol. 20 (2009), Iss. 1 P.61
https://doi.org/10.1177/1043659608325843
[Citations: 24]