Book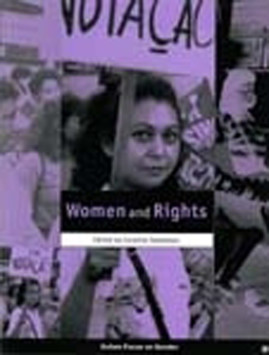 Women and Rights
Published: 1995
Pages: 72

eBook: 9780855988746
Paperback: 9780855983178
This book explores issues of women's rights including: the legal background and history of human rights legislation; the special human-rights problems of women in situations of conflict or as refugees; violence against women as a human rights violation; the rights of disabled women and the importance of providing information and training to enable women to claim their rights. Contributors include Rebecca J Cook, Alda Facio, Chakola Beyani and Lina Abu Habib.
Editorial

Caroline Sweetman

Enforcing women's rights through law

Rebecca J. Cook

From basic needs to basic rights

Alda Facio

Violence against Women - the international legal response

Christine Chinkin

The needs of refugee women - a human rights perspective

Chaloka Beyani

Human rights for women - battles of culture and power

Karin Poulsen

Women's legal knowledge - a case study of Mexican urban dwellers

Luisa Maria Rivera Izabal

Rivera Izabal "Women and disability don't mix" - double discrimination and disabled women's rights

Lina Abu Habib

A right to live - girl workers in the Bangladeshi garment industry

Gawher Nayeem Wahra and Ferdausur Rahman

Resources:

Book review: Human Rights of Women: national and international perspectives (ed. Rebecca Cook)

Further reading

Audio-visual material

Organisations working on rights.
Caroline Sweetman
Caroline Sweetman is Editor of the international journal Gender & Development and works for Oxfam GB.