Book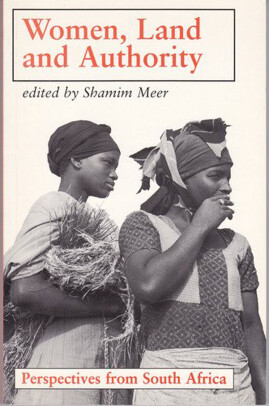 Women, Land and Authority
Perspectives from South Africa
Published: 1997
Pages: 160

Paperback: 9780855983758
The issue of land lies at the heart of South Africa's democratic transformation, but the extremity of apartheid's racial legacy is in danger of obscuring a no less pervasive oppression: that of women. This volume brings together recent research on women by the National Land Committee of South Africa. What emerges is a sharp sense of transition and crisis - and a pressing need for women's organization, to ensure that development and legislation are informed by the priorities of women, and that South Africa's land question is treated not least as a problem of gender transformation.
List of contributors

Forward

Introduction

PART ONE

Women and tenure: marginality and the left-hand power

Catherine Croos & Michelle Friedman

Access to land: a rural perspective on tradition and resources

Lisa Thorp

Women's land rights: a case study from Northern Transvaal

Janet Small

PART TWO

Cornfields, gender and land

Cherryl Walker

Women's land rights and needs: the caseof Thornhill and Merino Walk

Sue Middleton

Women, tenure and land reform: the case of Namaqualand's Reserves

Fiona Archer & Shamin Meer

PART THREE

Women on Highveld farms: an outlook for development

Linda Waldman & Mampe Ntsedi

Western Cape fruit and wine farms: land, labour and housing tenure

Sandra Hill-Lanz & Kathy O'Grady

Evicted farm workers and gender in the small town of Aberdeen

Bronwyn James & Sibongile Ngcobo

References

Bibliography

Index.
Shamim Meer Shamim is a feminist activist, educator, researcher and writer. She was a co-founder of feminist publications SPEAK and Agenda. She has worked to advance social justice and women's rights in communities, within trade unions, and within development practice. She has written and edited publications on women's land rights, feminism and democracy, rights and development among others.