Book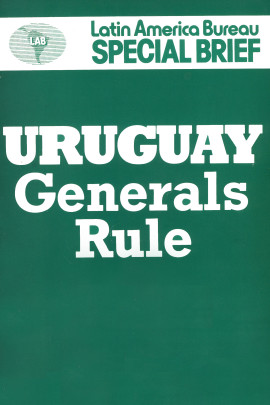 Uruguay
Generals Rule
Published: 1980
Pages: 72

eBook: 9781909013889
Paperback: 9780906156070
Uraguay was once known as 'the Switzerland of Latin America', an apparent model of stability, progress and prosperoty in a turbulent continent. But the illusion began to crumble in the 1950s as declining world prices for Uraguay's exports exposed the vulnerability of its dependent economy. By the late 1960s the country was in severe economic and political crisis. In 1973 Uraguay's generals stepped in and took control in the name of order and national security. Uruguay: Generals Rule describes the historical background to Uruguay today and chronicles the brutal and draconian measures taken by the dictatorship to eliminate all opposition and protest. The generals' methods have earned Uraguay a new name - 'the Torture Chamber of Latin America'.
Prelims - Uraguay (Title Page, Copyright Information, Contents, Map)

1. Prelims - Uraguay
What is Relevance? Defining Intersectional Praxis in Uruguay
Townsend-Bell, Erica
Political Research Quarterly, Vol. 64 (2011), Iss. 1 P.187
https://doi.org/10.1177/1065912910382301
[Citations: 28]
Academic Entrepreneurs, Public Policy, and the Growth of Latin American Studies in Britain during the Cold War
Miller, Rory M.
Latin American Perspectives, Vol. 45 (2018), Iss. 4 P.46
https://doi.org/10.1177/0094582X18775461
[Citations: 2]
The Memory of State Terrorism in the Southern Cone
No hay que tener los ojos en la nuca: The Memory of Violence in Uruguay, 1973–2010
Lessa, Francesca
2011
https://doi.org/10.1057/9780230118621_9
[Citations: 2]