Book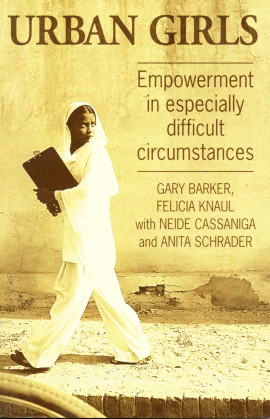 Urban Girls
Empowerment in especially difficult circumstances
Published: 2000
Pages: 152

eBook: 9781780440491
Paperback: 9781853394751
This book offers practical approaches to improve and empower the lives of at-risk, low-income, urban-based girls and young women. It does this by presenting successful projects from around the world which clearly demonstrate what can be done on a broad range of fronts, and answers the two key questions: what do at-risk urban girls and young women need?; what kind of programmes have been successful in meeting those needs? The book begins with a comprehensive overview of the plight of young disadvantaged women, and defines who they are, why they need special attention and most importantly, the four main contributing factors working against these women: poverty, age, gender and ethnicity. In the rest of the book, the authors use real case studies and models based on projects from Latin America, sub-Saharan Africa, South Africa and the USA, and illustrate how they have been successful in combating these four factors and empowering young women against them. These examples include income generation and vocational training schemes, formal and non-formal education programmes and health and mental well-being programmes. The book concludes with important and authoritative recommendations for both advocacy and service delivery work which will be essential reading for all agencies working with young women.
Foreword

About this publication

Acknowledgments

Introduction 1

Ch. 1 Especially Difficult Circumstances 7

Street girls 8

Urban girls at work 12

Commercial sexual exploitation 17

Teenage mothers 21

Identifying needs and programme responses 25

Ch. 2 Income Generation and Vocational Training 29

Case study: Youth Skills Enterprise Initiative (YSEI), Street Kids International (SKI); Zambia 30

Case history: Profile of three participants of the Youth Skills Enterprise Initiative 34

Model programme: Servol Life Centres: Education for life and work; Trinidad and Tobago, West Indies 36

Model programme: Child Welfare Society of Kenya: Empowering domestic workers 38

Model programme: The SIMMA Vocational Training Institute and the WACAR Foundation: Empowerment of women for better prospects and sustainable development; The Gambia 40

Elements of success: Income generation and vocational training 42

Ch. 3 Formal and Non-formal Education 45

Cause study: Adolescent Mothers Programme of the Women's Centre of Jamaica Foundation: A second change for education 46

Case history: Ellorine, from teen mother to nurse: Jamaica 49

Model programme: Enda: Literacy for domestic workers; Dakar, Senegal 50

Model programme: Paaralang Pantao; Children's Laboratory for Drama in Education and The People's School; Manila, The Philippines 51

Elements of success: Formal and non-formal education 54

Ch. 4 Health and Mental Wellbeing 57

Case study: Casa de Passagem: Health outreach by and for girls; Recife, Brazil 58

Case history: Betania, form street girl to mother; Brazil 61

Model programme: Kabalikat, Philippines: Health education for street children and bar workers; Manila, the Philippines 62

Model programme: Undugu Society of Kenya: 'Outward bound' for street girls; Nairobi, Kenya 64

Elements of success: Health and mental wellbeing 65

Ch. 5 Culture 67

Case study: Sasha Bruce Teen Mothers Programme: Rites of passage for African-American girls; Washington, DC, USA 68

Model programme: FACT: AIDS education through art; Bangkok, Thailand 72

Model programme: African Culture International: Theatre of change, theatre of tradition; Dakar, Senegal 74

Model programme: Kapatiran-Kaunlaran Foundation: Linking the elderly and youth; Manila, the Philippines 75

Elements of success: Culture 76

Ch. 6 Advocacy and Protecting Girls' and Young Women's Rights 79

Model programme: The Kamla Project: Preventing sexual exploitation of girls; Thailand 81

Model programme: ECPAT: Legislation against cross-border sexual exploitation of children; Worldwide network 83

Model programme: Inter-African Committee on Traditional Practices Affecting the Health of Women and Children: Confronting harmful traditions 85

Model programme: Heart-to-Heart: Preventing sexual abuse among adolescent mothers and their children; Chicago, USA 86

Elements of success: Advocacy and rights 88

Ch. 7 Involving Boys and Men in Efforts to Improve Young Women's Lives 91

Reflections on working with adolescent boys in the reproductive-health field 92

Reflections on involving men in the prevention of domestic violence 94

Programme examples in working with adolescent boys 95

Case study: The experience of SIDH in India 95

Case study: ECOS's experience in Brazil 95

Case study: The experience of the Ounce of Prevention Fund in the USA 96

Lessons learned from work with adolescent males in gender equity 97

Ch. 8 Conclusions 101

Advocacy recommendations 101

Service recommendations 103

Looking to the future 106

References and Bibliography 107

Consortium for Street Children-Profile 119

CSC members working with at-risk girls and young women 120
Asian and Pacific Cities
Philippines: Manila
2013
https://doi.org/10.4324/9780203096130-13
[Citations: 0]
Street Children, Human Rights, and Public Health: A Critique and Future Directions
Panter-Brick, Catherine
Annual Review of Anthropology, Vol. 31 (2002), Iss. 1 P.147
https://doi.org/10.1146/annurev.anthro.31.040402.085359
[Citations: 198]
Street Girls and Their Fight for Survival Across Four Developing Countries
Sharma, Deepali
Verma, Suman
Psychological Studies, Vol. 58 (2013), Iss. 4 P.365
https://doi.org/10.1007/s12646-013-0226-6
[Citations: 6]
Escaping Violence, Seeking Freedom: Why Children in Bangladesh Migrate to the Street
Conticini, Alessandro
Hulme, David
Development and Change, Vol. 38 (2007), Iss. 2 P.201
https://doi.org/10.1111/j.1467-7660.2007.00409.x
[Citations: 49]
Ecological self-image and behaviours for children living on the streets of Harare
Mhizha, Samson
Tandire, Justin
Muromo, Tinashe
Matika, McDonald
Development Southern Africa, Vol. 33 (2016), Iss. 1 P.39
https://doi.org/10.1080/0376835X.2015.1113124
[Citations: 0]
Empowerment, participation and social work
Achieving empowerment in social work
Adams, Robert
2008
https://doi.org/10.1007/978-1-137-05053-3_10
[Citations: 0]
Children and development: rights, globalization and poverty
Jones, Gareth A.
Progress in Development Studies, Vol. 5 (2005), Iss. 4 P.336
https://doi.org/10.1191/1464993405ps118pr
[Citations: 18]
Alternative mentoring of street girls in Bangladesh: new identities and non‐traditional opportunities
Sperandio, Jill
Mentoring & Tutoring: Partnership in Learning, Vol. 16 (2008), Iss. 2 P.207
https://doi.org/10.1080/13611260801916671
[Citations: 4]
I want to touch the sky: how an enterprise challenges stigma for sex‐workers
Syed, Jawad
Kilpatrick, Rob
Pio, Edwina
Equality, Diversity and Inclusion: An International Journal, Vol. 32 (2013), Iss. 3 P.277
https://doi.org/10.1108/EDI-12-2012-0114
[Citations: 2]
Surfing in the air: a grounded theory of the dynamics of street life and its policy implications
Conticini, Alessandro
Journal of International Development, Vol. 20 (2008), Iss. 4 P.413
https://doi.org/10.1002/jid.1423
[Citations: 12]
Children's rights and children's welfare after the Convention on the Rights of the Child
Grugel, Jean
Progress in Development Studies, Vol. 13 (2013), Iss. 1 P.19
https://doi.org/10.1177/146499341201300102
[Citations: 16]
Respondent-driven sampling: A new method for studying street children with findings from Albania
Johnston, Lisa G.
Thurman, Tonya R.
Mock, Nancy
Nano, Livia
Carcani, Valbona
Vulnerable Children and Youth Studies, Vol. 5 (2010), Iss. 1 P.1
https://doi.org/10.1080/17450120903193923
[Citations: 14]
Youth, gender and livelihoods in West Africa: Perspectives from Ghana and the Gambia
Chant, Sylvia
Jones, Gareth A.
Children's Geographies, Vol. 3 (2005), Iss. 2 P.185
https://doi.org/10.1080/14733280500161602
[Citations: 82]
Searching for Kinship
Smith, Hilary
American Behavioral Scientist, Vol. 51 (2008), Iss. 6 P.756
https://doi.org/10.1177/0002764207311986
[Citations: 40]