Book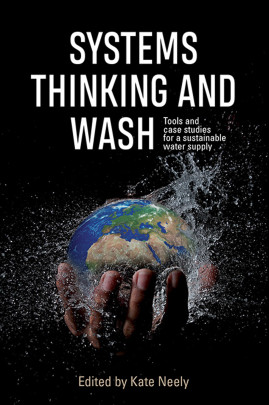 Systems Thinking and WASH
Tools and case studies for a sustainable water supply
Published: 2019
Pages: 190

eBook: 9781780447483
Paperback: 9781788530262
Hardback: 9781788530255
Water supplies in developing countries fail at unacceptable rates. In an era of high technology and a global drive for sustainable water and sanitation (SDG6), we need to find solutions to the 'wicked problems' that characterize water for development programmes around the world.

Systems Thinking and WASH introduces practitioners, researchers, programme managers and donors to the tools and approaches that have been most successful in this area. This book explores the different applications of systems thinking used by an interdisciplinary group of WASH researchers and practitioners. With additional commentary from the field, each chapter helps us to imagine different ways to understand and work with communities, development agencies and governments to create a better world through more appropriate WASH (water, sanitation and hygiene) programming.

The book includes an annotated list of additional resources that anyone interested in non-linearity, complex adaptive systems, systems thinking, social network analysis or system dynamics will find useful as a practical guide to getting started.

This book is highly important reading for WASH programme managers, government and NGO staff and donor agencies interested in the application of systems thinking techniques.

Preface

Acknowledgements

About the editor

List of acronyms and abbreviations

1. Introduction: WASH projects and complex adaptive systems

Kate Neely

2. Systems thinking and transdisciplinarity in WASH

Kate Neely

3. Using causal loop diagrams to understand handpump failure in sub-Saharan Africa

Elisabeth S. Liddle and Richard A. Fenner

4. Applying social network analysis to WASH

Duncan McNicholl

5. Social-ecological system resilience for WASH

Jeremy Kohlitz, Naomi Carrard, and Tim Foster

6. Bureaucracy, WASH, and systems thinking

Chris Brown

7. Learning for adaptive management: using systems thinking tools to inform knowledge and learning approaches

Melita Grant and Juliet Willetts

8. Measuring impact in WASH from a complex adaptive systems perspective

Chris Brown

9. WASH adaptation in Uganda (a practitioner case study)

Adam Harvey

10. Resources for systems thinking
'If you think systems thinking is all woffle and hand-waving, think again. Kate Neely has pulled together a lucid and convincing account that shows how thinking in systems makes you smarter and more effective in getting water and sanitation into the hands of communities around the world. The book is full of useful tools, applied to real life settings, and fleshes out a number of developmental buzzwords – resilience, adaptive management – with real practical content. A very useful book indeed.'
Dr. Duncan Green, Senior Strategic Adviser, Oxfam

'Systems thinking and WASH lives up to its title by supporting the reader to deepen our understanding of complex systems and to reframe both the wicked and the everyday challenges in the WASH sector.'
Angela Huston, WASH Systems specialist, IRC WASH

'With interest growing in applying systems approaches to the challenges of supplying sustainable water and sanitation services, this book presents a very welcome, timely and accessible compilation of real world experiences in diverse settings. Well worth a read for anyone wondering what systems approaches are; what tools and approaches are out there; and whether and how to apply them.'
Dr Patrick Moriarty, Chief Executive Officer, IRC

Kate Neely Kate Neely is a Research Fellow at University of Melbourne who works on the application of systems thinking to WASH issues in Timor-Leste (East Timor) and other developing countries.