Book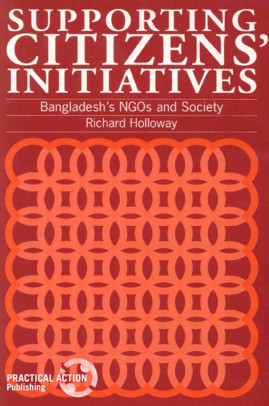 Supporting Citizens Initiatives
Bangladesh's NGOs and society
Published: 1998
Pages: 240

eBook: 9781780446066
Paperback: 9781853394287
This book explains the role currently played by non-governmental organizations (NGOs) in Bangladesh and answers the questions: Why are Bangladeshi NGOs praised throughout the development world, yet attacked within their own country? Why are NGOs which take foreign donations treated differently from the government which takes foreign grants and loans, the religious organizations which take foreign grants, or the business sector which takes foreign investment? Why do Bangladeshi NGOs receive adulatory visits from foreign dignitaries, but rarely from Bangladeshi dignitaries? Contains lessons for all those concerned with understanding the relationship between state and civil society organizations throughout the developing world.
Preface 11

Notes on the Materials 15

Chapter 1

NGOs—WHAT ARE THEY AND WHY DO PEOPLE GET SO

EXCITED ABOUT THEM 17

Chapter 2

THE CONFUSING SITUATION OF NGOs, THE GOVERNMENT

AND THE PRESS IN BANGLADESH—JULY-AUG '92 25

Chapter 3

THE PRINCE, THE MERCHANT, AND THE CITIZEN—LONG

LIVE THE CITIZENS ASSOCIATIONS! 31

Chapter 4

CIVIL SOCIETY: THE NON-PROFIT PRIVATE SECTOR 37

Chapter 5

NGOs ARE ONLY ONE PART OF THE THIRD SECTOR IN

THE SOUTH—AN ANALYSIS FROM BANGLADESH 51

Chapter 6

THE GREAT VALUE OF NON-GOVERNMENT

ORGANIZATIONS IN BANGLADESH: AN

INTRODUCTION FOR PARLIAMENTARIANS 69

Chapter 7

INTRODUCTION TO THE THIRD SECTOR OF

SOCIETY—THE VOLUNTARY SECTOR 77

8 Supporting Citizens' Initiatives

Chapter 8

SUPPORTING THE SUSTAINABILITY OF THE NGO

SECTOR—NOT JUST MORE FUNDS FOR NGOs 105

Chapter 9

OPTIONS FOR SUSTAINABILITY 111

Chapter 10

ALTERNATIVES TO DONOR FUNDS FOR SOUTH ASIAN

NGOs—WHAT DO WE KNOW AND WHAT DO WE NEED

TO KNOW? 125

Chapter 11

BACKGROUND ON THE PROPOSED NGO BILL 1993 143

Chapter 12

NGOs, POLITICAL PARTIES AND GOVERNMENT—THE

ELECTION OF 1991 AND ITS AFTERMATH 149

Chapter 13

NGOs AND POLITICAL PARTIES—THE CASE OF

KHET MAJUR SAMITY 159

Chapter 14

PERSPECTIVES ON THE ENABLING ENVIRONMENT IN

BANGLADESH—OPPORTUNITIES AND CHALLENGES FOR

NGOs AND PEOPLES ORGANIZATIONS 169

Chapter 15

BUILDING THE SECTOR—HOW PRIP HELPS TO BUILD THE

NGO CAPACITY IN BANGLADESH 183

Chapter 16

OVERVIEW OF POVERTY ALLEVIATION AND PVDOs'

ROLE IN BANGLADESH 199

Index 233
Richard Holloway
Richard Holloway has worked with CSOs for over 40 years in 30 countries of Africa, Asia, the Caribbean and the Pacific. He has worked with grassroots organizations, international NGOS, governments, and multilateral and bilateral donors on issues concerning civil society.
Civil Society in Bangladesh
Conceptual Discourse
Tasnim, Farhat
2021
https://doi.org/10.1007/978-981-33-4404-4_2
[Citations: 0]
The Strategic Choices of NGOs: Location Decisions in Rural Bangladesh1
Fruttero, Anna
Gauri, Varun
Journal of Development Studies, Vol. 41 (2005), Iss. 5 P.759
https://doi.org/10.1080/00220380500145289
[Citations: 96]
Contradictions and Confusions in Development Work
Arvidson, Malin
Journal of South Asian Development, Vol. 3 (2008), Iss. 1 P.109
https://doi.org/10.1177/097317410700300105
[Citations: 18]
Education, Participatory Action Research, and Social Change
Participatory Research, NGOs, and Grassroots Development: Challenges in Rural Bangladesh
Barua, Bijoy P.
2009
https://doi.org/10.1057/9780230100640_17
[Citations: 3]
Reactions of Developing-Country Elites to International Population Policy
Luke, Nancy
Watkins, Susan Cotts
Population and Development Review, Vol. 28 (2002), Iss. 4 P.707
https://doi.org/10.1111/j.1728-4457.2002.00707.x
[Citations: 30]
How Vigilant is the Vibrant Civil Society in Bangladesh? A Survey-based Analysis
Tasnim, Farhat
Journal of Civil Society, Vol. 8 (2012), Iss. 2 P.155
https://doi.org/10.1080/17448689.2012.726548
[Citations: 1]
Civil Society in Bangladesh
Introduction
Tasnim, Farhat
2021
https://doi.org/10.1007/978-981-33-4404-4_1
[Citations: 0]
Democratic consolidation and failure: Lessons from Bangladesh and Pakistan
Wilkinson, Steven I.
Democratization, Vol. 7 (2000), Iss. 3 P.203
https://doi.org/10.1080/13510340008403678
[Citations: 10]
Efficacy of Think Tanks in Influencing Public Policies: The Case of Bangladesh
Rashid, Ahmed K.
Asian Journal of Political Science, Vol. 21 (2013), Iss. 1 P.62
https://doi.org/10.1080/02185377.2013.793561
[Citations: 4]
Bargaining with Poverty: An Empirical Review on Some Rural Women in Bangladesh
Nawaz, Faraha
Studies on Home and Community Science, Vol. 7 (2013), Iss. 2 P.87
https://doi.org/10.1080/09737189.2013.11885397
[Citations: 1]
Rural Entrepreneurship and Innovation in the Digital Era
Empowering Marginalized Women Through Entrepreneurship
Nawaz, Faraha
2021
https://doi.org/10.4018/978-1-7998-4942-1.ch007
[Citations: 0]