Book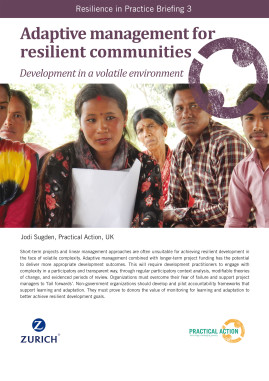 Short-term projects and linear management approaches are often unsuitable for achieving resilient development in the face of volatile complexity. Adaptive management combined with longer-term project funding has the potential to deliver more appropriate development outcomes. This will require development practitioners to engage with complexity in a participatory and transparent way, through regular participatory context analysis, modifiable theories of change, and evidenced periods of review. Organizations must overcome their fear of failure and support project managers to 'fail forwards'. Non-government organizations should develop and pilot accountability frameworks that support learning and adaptation. They must prove to donors the value of monitoring for learning and adaptation to better achieve resilient development goals.
Executive Summary

Introduction

Approaches to project and programme management

The Zurich Flood Resilience Alliance

Adaptation and learning in development

Putting AM into practice

The challenges of managing adaptively

Conclusion
Jodi Sugden
Jodi Sugden works with the Policy and Practice team at Practical Action, UK. She supports Practical Action's policy influencing work through research, analysis and communications.