Book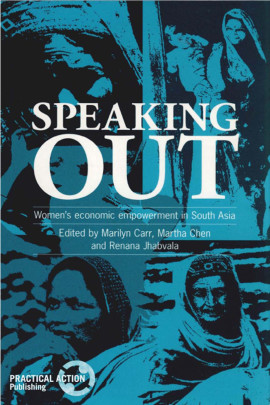 Speaking Out
Women's economic empowerment in South Asia
Published: 1996
Pages: 256

eBook: 9781780445991
Paperback: 9781853396953
This volume draws together the experiences of seven South Asian NGOs in organizing rural and urban poor women for economic empowerment. Going beyond the normal descriptive accounts of the work of these NGOs, it throws new light on how changes are occurring at the grassroots level, and analyses and defines economic empowerment from the perspective of the women themselves. Through seven detailed case studies, the book demonstrates how women are gaining increased access to, and control over, economic resources, and how this in turn has led to far-reaching socio-cultural and political changes at the individual, family, community and wider economy levels. It also shows how women are now building and taking control of their own organizations which are becoming more autonomous and financially self-reliant. This book will be of relevance to students of development and women's studies, development planners and practitioners, and women's organizations, as well as those with an interest in South Asia.
Preface

NAZEER AZIZ LADHANI ix

Preface

NOELEEN HEYZER xi

Acknowledgements xiii

Introduction

MARILYN CARR, MARTHA CHEN, RENANA JHABVALA 1

Women and Poverty in South Asia 1

Approaches to Women's Empowerment 3

Experiences of NGOs and POs in Working with Women 6

The Purpose of the Research 8

The Research Project 9

Research Questions 9

Methodology 10

Selection of Organizations 11

Selection of Field Sites 11

Summary of the Case Studies 12

Case studies 19

Village and Community Organizations

Gathering the Second Harvest: Aga Khan Rural Support

Programme (AKRSP) in Northern Pakistan

ABINTA MALIK and SANDRA KALLEDER 21

Transforming Women's Economies: Bangladesh Rural

Advancement Committee (BRAC)

GUL RUKH SELIM 45

Demanding Accountability: Proshika in Bangladesh

LAMIA RASHID and Md. SHAHABUDDIN 67

Co-operatives

'Like my Mother's House': Women's Thrift and Credit

Co-operatives in South India

NANDITA RAY and D.P. VASUNDHARA 85

Rural Women Manage their own Producer Co-operatives:

Self Employed Women's Association (SEWA)/Banaskantha

Women's Association in Western India

SHARIT BHOWMIK and RENANA JHABVALA 105

Women's Banks

Women Banking for Success: Women's Development Federation

(WDF) in Sri Lanka

W.M. LEELASENA and CHITRANI DHAMMIKA 127

Unionization

Empowering Marginalized Workers: Unionization of Tobacco

Workers by the Self Employed Women's Association (SEWA) in

Kheda, Gujarat

SHARIT BHOWMIK and MEENA PATEL 143

A Struggle within a Struggle: The Unionization of Women in

the Informal Sector in Tamil Nadu

GEETHA RAMAKRISHNAN 167

Lessons learned

MARILYN CARR, MARTHA CHEN, RENANA JHABVALA 185

Overview 185

Sources of Disempowerment 188

Marriage and Kinship Systems 188

Household and Extended Family 189

Patron-client Relationships 190

Community Groups and Local Councils 190

Wider Economy and Markets 190

Organizing Women for Economic Empowerment 193

Reasons for Organizing 193

Barriers to Effective Organizing 195

Autonomy and Sustainability of Women's Organizations 196

Empowerment Strategies 198

Specific Economic Strategies 198

Financial Interventions 198

Enterprise Development 199

Market Strategies 200

Bargaining 201

Socio-political Strategies 201

Broader Economic Support Goals 202

The Economic Empowerment of Women 203

Material Gains/Economic Change 203

Direct Tangible Results 205

Indirect Tangible Results 206

Less-Tangible Outcomes 207

Increased Bargaining Power 207

Structural Change 210

Towards a Broader Perspective on Women's Empowerment 213

Everyday Forms of Women's Empowerment 213

The Economic is Political 215

Personal and Collective Power 217

Speaking Out 217

References 219

About the Contributors 220

Glossary of non-English Terms 222

List of Acronyms 224

Annotated Bibliography: Selected Studies on
Marilyn Carr
Marilyn Carr is Chief of the Economic Empowerment Section of the United Nations Development Fund for Women. She is a development economist with over 20 years experience in Asia and Africa and specializes in the fields of small enterprise development and technology choice and diffusion.